ACADEMIC REVOLUTION
Academic integrity has become strategic, yet many concerned individuals remain unprepared. A new era of academic excellence is triggered by the facilities; on-line technology is sourcing to the academic fields via its fast pace and easy access.
The upcoming era is going to face completely techno –oriented students and academic staffs who will be busy in receiving and delivering digital education via smart devices. The paper and pen culture might become obsolete in the coming future. In these days also extra paper work has become a burden as efficient organization and institutions are converting their printed documents into digital data for security, accessibility and ease. Some of the functional features of these free templates are
Comprehensive format to match the exact document, designed by the institution
Customized option to craft your own design for a specific form
Various calculating formats, to easily tabulate the academic calculations
Different font sizes and styles to type the citation as directed
Image option and table insertion to showcase an authentic academic document
To complement such trends, thousands of on-line templates are serving academic entities to get their work done complete. Some of the examples of free academic templates are the following
For Schools
Attendance record templates
Student grade book templates
Student profile records
Mid-year or End –year Syllabus template
Parent –teacher meeting agenda
For Under graduate Academics:
Weekly college schedule
Student loan forms
Subject combination lists
For Postgraduate Academics:
Research paper templates
Academic reports
Thesis record templates
Few sample templates are given below
K-12 Expense Calculator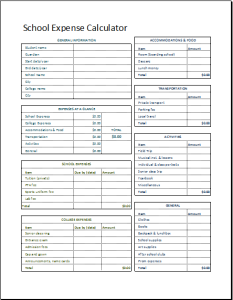 The K-12 expense calculator is what you can call as an expense calculator for your children. It is mandatory for every parent to make an expense chart for their children. There are a lot of things that can come in K-12 expense calculator. That includes;
The expenses for a normal school day. Including, textbook materials, field trips during the normal school days, purchase of educational equipment and the expenses of home school.
Tuition for private school.
Tuition fee for college courses that are required for high school graduation.
Tuition for the summer school courses.
These expenses further include the following;
Driver's education classes.
Transportation expenses.
Expense of the computer and educational softwares bought for the children.
These expenses can easily be calculated with the K-12 expense calculator Download
College Comparison Worksheet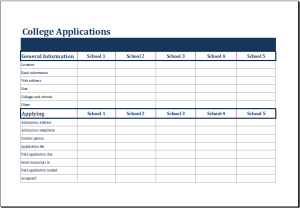 When it comes to attending a college or which college to attend, then there are many factors that should be considered like which majors the college is offering. How much far is the college from the home, what is the campus size, cost of attendance, what the requirements of admission are and what are the campus activities, all these things are the main ones. All of these factors can help you choose the college which you are going to; many templates of college comparison worksheet are available on the internet from which you can take help. Search for all the characteristics of the college and make a template using the information of different colleges.
Hence all the above examples highlight the user friendly service these templates are delivering with easy downloadable options.
See the list Click Here