Babysitters & Gift Certificates
There could be no better present for a couple with kids than a babysitter gift certificate. As the name implies, the certificate provides the services of a babysitter to parents as a gift. It could be for an entire day or for a certain number of hours. Parents with busy lives would truly appreciate this thoughtful gift. There is no fixed standard for the design and layout of this certificate. It can be designed in any way. In addition, its size also depends on the preferences of the designer. In order to make the process easier, there are babysitter gift certificate templates available online.
These templates can be easily used in order to design a simple certificate. Moreover, certain changes can also be made to modify the design.
You can create an eye-catching babysitter gift certificate with funky colors and interesting font styles. Some important pieces of information must be provided. These include the names of the receiving individuals. In addition, the time validity of the certificate should also be mentioned. Often, various organizations provide these gift certificates. Services of reliable babysitters are offered this way. On the other hand, you can hire your own babysitter for a few hours and gift her services to a friend.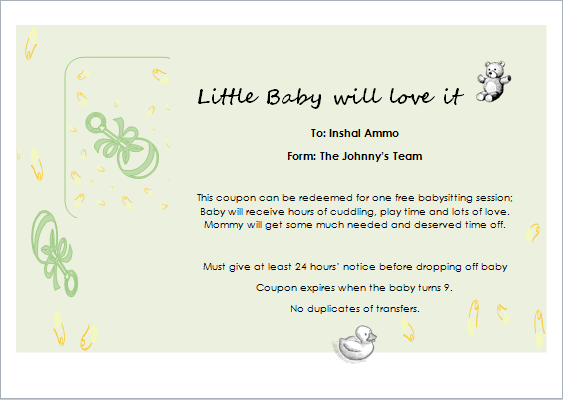 A babysitter gift certificate can turn out to be a fun as well as an extremely useful present. It can be gifted on special occasions as well as on any ordinary day. The designing process will only take a few minutes if you use online templates.
Preview & Details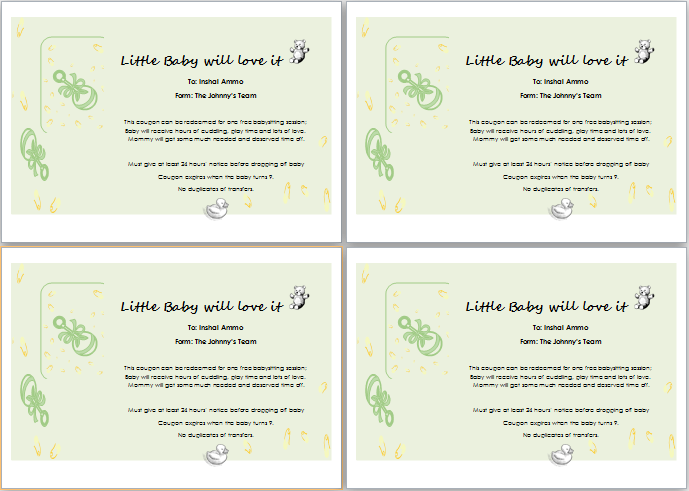 Babysitter Gift Certificate Template
File Size: 444 KB mobile [Android+iOS] & iPad
Download Word (.doc) 2007 & 2007+
File Size: 152 KB
Download OpenOffice Writer (.odt)