Commercial Service Documents
A bill of lading is a very important legal document. It is used during international trade. The document contains complete information about the goods being transported from the shipper to the receiver. This information includes details about the type of the transported products as well as their total number. In addition, the bill also contains the address of the receiver.
All courier companies issue this bill for shipped goods. It is signed by the concerned authorities at different points during the transit of the shipped goods from the source to the destination. The purpose of this document is to offer protection to all the parties involved in the process of shipping. These include the sellers, the shippers and finally the recipient. It ensures safe delivery of goods. In case of delivery problems, the document can be used to pinpoint the issue.
Creating this document can be a timely process. However, a template can help you fulfill this job quickly and easily. You get a ready-made format which can be customized depending upon the requirements. A bill of lading template as excel document can be used. In this way, it will be easier to create the required columns and rows for the bill. It is not a complicated document. However, it must contain all the necessary pieces of information. Generally, the bill covers one page only. It may exceed to two or more pages for larger orders and deliveries. A single bill of lading template can help you create the document whatever your requirements are.
Preview & Details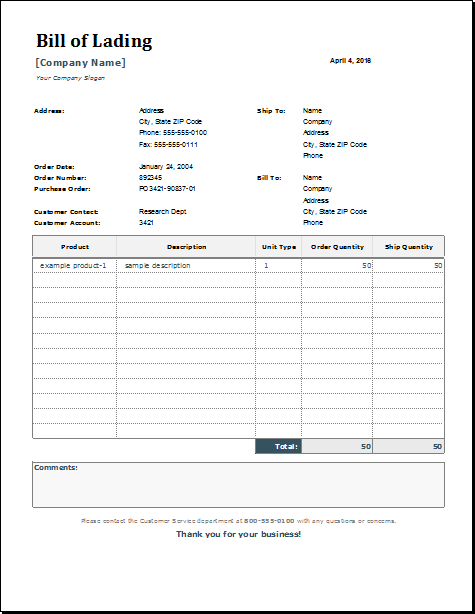 Bill of Lading Template
File Size: 32 KB mobile [Android+iOS] & iPad
Download Excel (.xls) 2007 & 2007+