HEALTH & FITNESS
Blood sugar logs are maintained at hospitals for diabetic patients. You can also maintain this record for yourself at home. It can also be useful for individuals who are at risk of developing the disease. Keeping a track of your blood sugar level can help you know where you stand. In this way, you can take the necessary precautions. In addition, changes can be made to the daily diet and exercise plan to control the blood sugar levels. Gadgets are now available which help individuals test their own sugar levels at home. This has made it easy to maintain your own log.
TEMPLATES
Templates for blood sugar record sheets can be downloaded from the internet. You can choose from different available formats. Some logs are in the form of tables which let you record your sugar level after every meal during the entire course of the day. On the other hand, some tables let you make entries at important times of the day – morning, noon, evening and night. Likewise, you will find different types of charts and tables to record your blood glucose levels.
You can print out the templates and maintain your own file. Tracking your blood sugar is very important in order to take the right medication and adopt the right lifestyle. This record can also be useful for your next appointment with the doctor. It is also useful for gestational diabetes. You can maintain a record during pregnancy as well as after delivery. So download a blood sugar log template today and avail its benefits.
PREVIEW & DETAILS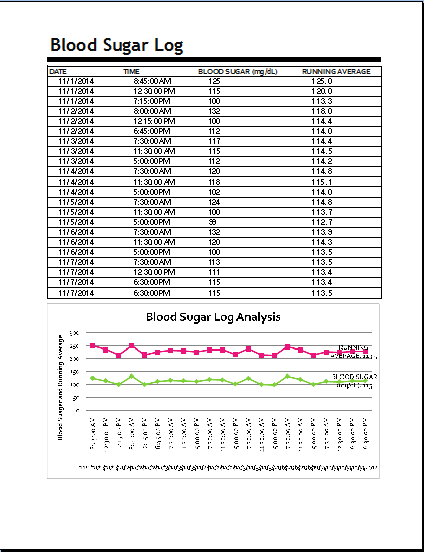 BLOOD SUGAR LOG TEMPLATE
File Size: 36 KB mobile [Android+iOS] & iPad
Download Excel (.xls) 2007 & 2007+
File Size: 22 KB
Download OpenOffice Calc (.ods)