Gift Certificates
A business gift certificate can be presented as a gift for any product or service. The receiver can make a purchase according to the amount of money mentioned on the certificate. Such gift certificates are offered by different shopping stores or business service providers. The design can be simple or innovative. Hundreds of business gift certificate templates are available on the internet. It is easy to use these templates in order to create a gift certificate for your own business. The basic elements of such certificates include the company or store's name, the receiver's name, the purchasing limit as well as the validity time period.
There should also be space for the manager's or supervisor's signature at the end. Usually, the size of these certificates is small. It can be rectangular or square shaped.  A company or store can use its own logo on the certificate. The other aspects of the design can be created through the designer's innovation.
The online templates can provide really good ideas in this regard. Users can choose from different borders or frames to give the certificate a formal look. In addition, there are options with the colors and font styles as well. Any interesting image or figures can also be added. A gift certificate for your business should carry your mark. Therefore, other than putting on the logo, you can make further customization as well. Use your own innovative design so that your business gift certificate can be unique. Finally, you can print it and use it for your clients.
Preview & Details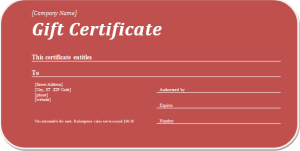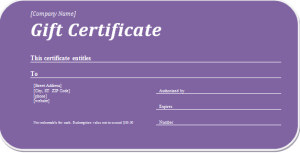 Business Gift Certificate Template
File Size: 120 KB mobile [Android+iOS] & iPad
Download Word (.doc) 2007 & 2007+
File Size: 18 KB
Download OpenOffice Writer (.odt)