SERVICES BROCHURES
A business services brochure can help you make an impression on your clients. This means you can both gain as well as lose the attention of your potential buyers through your brochure. Therefore, you need to design it well. You can turn to the internet for ready made templates. There are free templates which can be used to save lots of time. You can also take creative design ideas from the web. Keep the main purpose of your brochure in mind. Remember it is supposed to promote your services. You need to spread awareness among the masses to gain more clients. For this purpose, you should carry some research before designing the brochure. Find out what appeals most to the masses.
CREATING BROCHURES
Create a brochure which is attractive and can instantly catch attention. Be careful with the colors and font you use. Moreover, also focus on the content. It should be comprehensive and catchy. No one likes to read long and boring paragraphs. So, you can use catchy headings and discuss the main points in brief bullets. Bring out the emphasis on your business services. These are just a few of the tips which can make your brochure effective.
Using templates will make your job much easier. You wouldn't have to worry about the right colors and font. Everything is ready for you to use. All you have to do is add the right content. You can also make a few changes in the layout. In this way, you can customize the brochure templates.
PREVIEW & DETAILS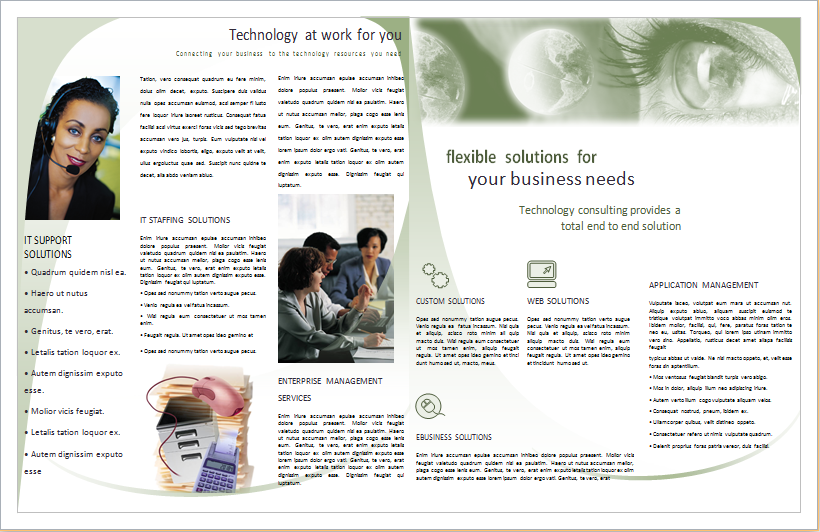 BUSINESS SERVICES BROCHURE TEMPLATE
File Size: 2398 KB mobile [Android+iOS] & iPad
Download Word (.doc) 2007 & 2007+