Contract for Car Sale
It is often an economical business to sell a used vehicle to a random customer instead in a car market or to a car dealer. However such tasks come with a few responsibilities, these include writing a contract of selling and purchasing which comes at the seller's end. A car sale contract must include a few items like
Identifying buyer and Seller
The most important thing is to mention the legal names of both seller and purchaser, besides this, the contract must have a highlighted section stating the nature of vehicle to be sold and its reason for selling. The contract may include complete addresses of both parties along with their driving license numbers for further verification purposes.
Vehicle Description
The contract must have a section with complete vehicular description. Mentioning the name and make of the car isn't the requirement. You must provide the full details like color, year, make and model, body type, interior color, odometer reading, chassis and engine number of the particular vehicle.
Provide accurate information
Refrain from mentioning any false statements in the contract. This contract is the test of your integrity. The major concern will be how many kilometers have the car covered so far. As every aspect of purchase is directly proportional to it. If ever the odometer has been replaced or repaired then it must be mentioned in the contract. Otherwise, the entire contract would be of no worth.
To be precise, a car sale contract must comprise of few important well-known things mentioned in a detail. It is an easy document to compose yet releases the seller from any future contradictions regarding the particular sale.
Preview & Details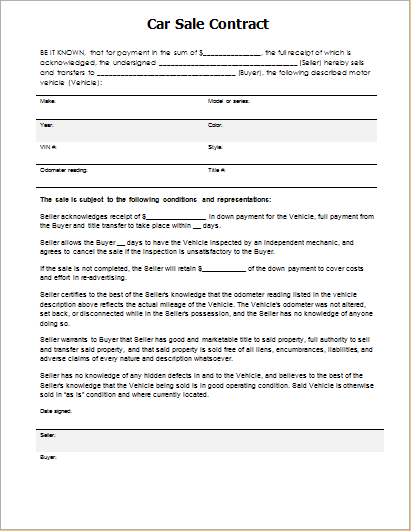 Car Sale Contract Template
File Size: 40 KB mobile [Android+iOS] & iPad
Download Word (.doc) 2007 & 2007+
File Size: 23 KB
Download OpenOffice Writer (.odt)