People receive training for various skills. A training certificate can add to your resume, thereby making it more impressive. It is necessary for many jobs to be well-trained at certain skills. Therefore, it is mandatory to show the relevant certificates as a proof to your potential employers. A plethora of different types of training certificates can be designed with the help of a single template. It can be used over and over again to make the necessary modifications for customization. In this way, the designing task becomes very simple. It is not time-consuming at all. Moreover, you do not need to make a large investment to create such certificates.
This document can be created by various training institutes without the expertise of a professional designer. There are many different templates available. The one offering a simple format can be used. You can make changes to this format according to what is required. There is a general pattern for training certificates. Apart from that, you can create the design you prefer. All the important content should be included.
The certificate must contain the name of the training institute, the name of the trainee, the relevant dates and important signatures. The certificate would not be valid unless it contains signatures by the authorities. The name of the particular training course must also be mentioned. It is optional to include the duration of the training session. The visual appearance of the certificate should be simple because it is a formal piece of document.
Preview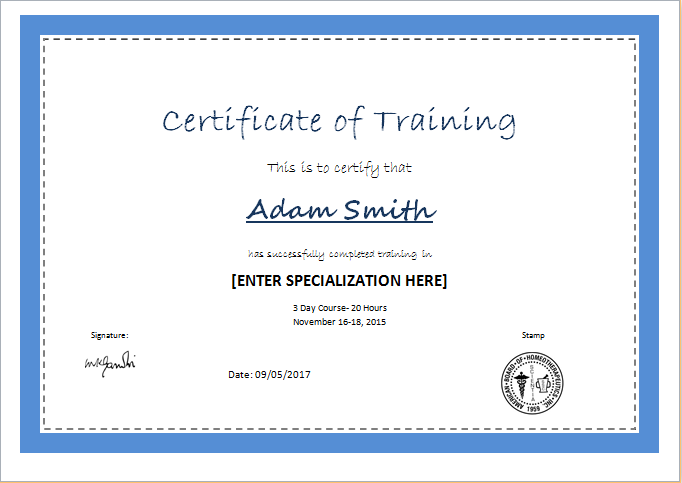 Certificate of Training Template
File Size: 152 KB mobile [Android+iOS] & iPad
Download Word (.doc) 2007 & 2007+