PERSONAL & OFFICIAL CONTACTS
All your contact interactions can be recorded in a contact log. It can be used for brief information or detailed records. In the case of latter, a record of your emails, official letters or phone conversations can be maintained. Therefore, you can choose the number of rows and columns accordingly. On the other hand, pre-made contact log templates can also be used. The internet offers a number of options. You can find the right template which is perfectly suitable for your needs. Certain changes can also be made to customize your contact log. This record can be created in a computer or manually on paper. In both cases, it helps you find out a contact easily. However, computer contact logs can give faster results.
TEMPLATES
This is an important piece of document for your personal or office use. Often, individuals use sticky notes to save information about contacts. However, a proper contact log keeps the information more organized as well as safer. Passwords can be used to protect computerized contact log sheets. In this way, your information and contact details will remain confidential.
A contact log can serve to be more useful than a simple phone index diary. This is because the former can be used to store more detailed information. All the details depend on each individual user's preferences and requirements. For this purpose, you can customize the available contact log templates. It can then be printed and put to use. Therefore, these templates can prove to be very useful for everyone.
PREVIEW & DETAILS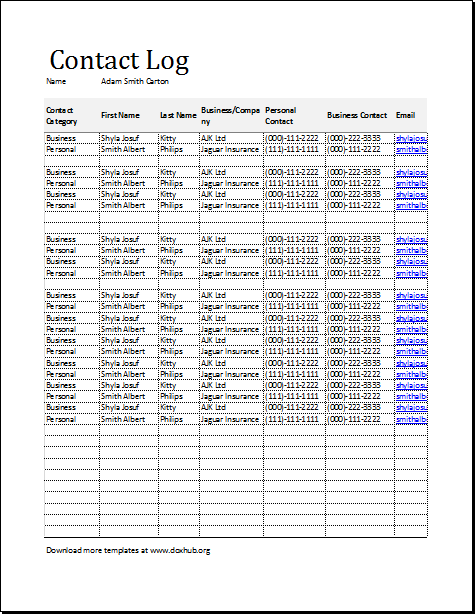 CONTACT LOG TEMPLATE
File Size: 36 KB mobile [Android+iOS] & iPad
Download Excel (.xls) 2007 & 2007+
File Size: 15 KB
Download OpenOffice Calc (.ods)