DAILY WORKOUT SCHEDULES
A daily workout log is important for proper physical training. It is often used by professional athletes. Beginners can also maintain a record for their daily exercise routine. It is particularly important for busy individuals. The log can help such people make a proper exercise schedule. It is also recommended to individuals suffering from obesity. People with other medical conditions can also maintain this record if they need to exercise on a daily basis for health reasons.
Different types of daily workout log templates can be found on the internet. You can also obtain one from your physical trainer or coach. A simple workout log can be divided into different sections to include various pieces of information. Such a log usually records the type of physical training, workout duration, and timings. You can also record the burned calories, your progress and other aspects of a daily workout routine. This type of record is useful for both adults as well as children. In particular, teenagers suffering from obesity should be asked to maintain a daily workout log. It will keep them disciplined and regular with regard to daily physical exercise.
TEMPLATES
A daily workout log can be more useful if it is maintained along with a food diary or daily meal log. In this way, you can evaluate your overall health. Weight loss and physical training activity can be easily evaluated. Templates for these logs are available on the internet. These can be used by professionals as well as ordinary weight watchers.
PREVIEW & DETAILS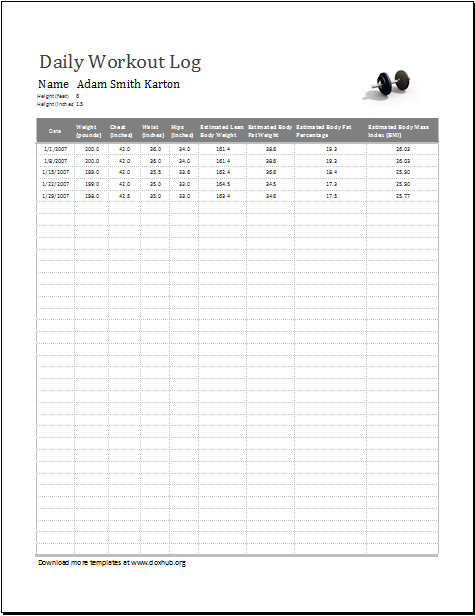 DAILY WORKOUT LOG TEMPLATE
File Size: 61 KB mobile [Android+iOS] & iPad
Download Excel (.xls) 2007 & 2007+
File Size: 59 KB
Download OpenOffice Calc (.ods)