REFERRAL FORMS
The employee referral form is used by companies while hiring new people for work. This form is a kind of form which is given to an employee by his company informally to ask him to fill it for the person he thinks good enough for doing the job in the same company. If the company gives the reward to the person on choosing the right and highly qualified employee for his company, then for sure he will be putting efforts to find the employee. This referral form ensures the success of the company as it finds the most talented people to work.
50% hiring in a good company is done through this referral form. In reward, the existing employee of the company is given the bonus for the life time. This form includes the information about the position for which the candidate is being referred, the date of referring, the department as well as the name of the candidate who is being referred. It also includes the name of the employee who is referring, his phone number, phone number of candidate, the signature of the employee, and at last, the resume of the candidate.
The advantage of using this form is that it includes all basic information which may be required by the company while hiring a person on the reference of any existing employee. It also saves a lot of time of the company which may have been wasted on finding the candidate for a specific department with suitable skills.
Preview & Details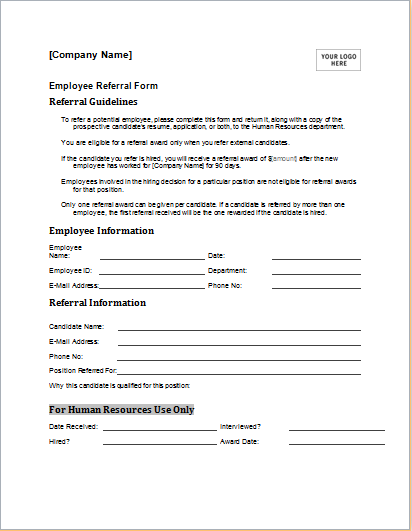 Employee Referral Form Template
File Size: 32 KB mobile [Android+iOS] & iPad
Download Word (.doc) 2007 & 2007+