HOLIDAYS & FAMILY EVENTS
If you planned a holiday family event and you want to ensure that you have done all the things which you have to do in order to make this event memorable then the best thing you can do for this purpose is to have a holiday family event checklist with you.
Arranging a holiday family event can be very complicated. You have to keep a check on everything which you want to do. In order to see whether you have thought about all the things which are needed in an event or not, you can compile a checklist.
While compiling a checklist, make sure that you have written all the important basic things in it.  in order to make a successful checklist, first of all, make your budget. After that make a list of guests and set a date for the event. Then select the venue where you want your event to be celebrated after that chooses the theme for the event if you want your event to be based on the theme. After that plan all those things which will be needed to entertain the people. After selecting the entertaining source, choose a dress code which you want your guests to follow. After choosing all the things for the party, send out the invitations to all the guests. After sending the invitation, the most important task is to choose the menu. The menu should be selected on the basis of budget you can afford as well as the type of event.
PREVIEW & DETAILS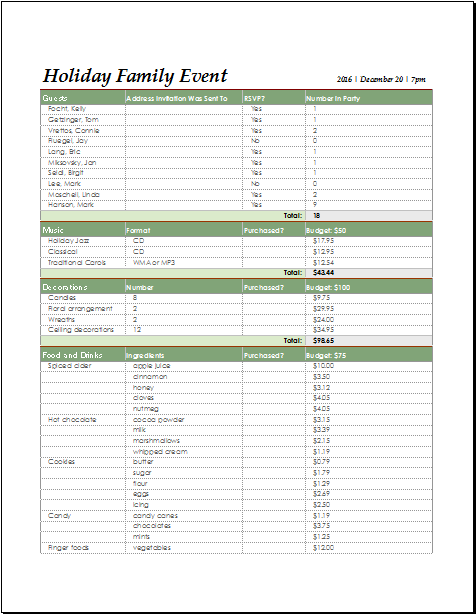 HOLIDAY FAMILY EVENT CHECKLIST TEMPLATE
File Size: 35 KB mobile [Android+iOS] & iPad
Download Excel (.xls) 2007 & 2007+
File Size: 22 KB
Download OpenOffice Calc (.ods)