Land Lease & Agreements
A land lease agreement is used to bind the tenant and the owner of the land. If there is a relation of trust between the tenant and the owner then the verbal agreement can be made, however, in order to make the agreement more authentic and to give it legal validity, you are required to have a land lease agreement. The signing of the land lease agreement is the most important task while renting the land. Many landowners get into complication only because they are not aware of the importance of the land lease agreement.
The lease agreement contains all those terms which have been agreed upon by both the parties. The duration of the lease, the amount of rent and many other aspects are written in the agreement. All the problems related to the agreement are solved and when both the parties are completely satisfied by whatever has been mentioned in the contract, then they are asked to sign the agreement. Before signing the contract, both parties share all of the insecurities which they have about this new commitment.
All those cases, in which the agreement can be terminated, are also explained in the document. The agreement also explains those cases in which the rent can be late and what might be the consequences of the late payments of the rent are also mentioned. The cost is also very important factor in the lease agreement. The cost inclusion in the lease can secure both the owner and lessee.
Preview & Details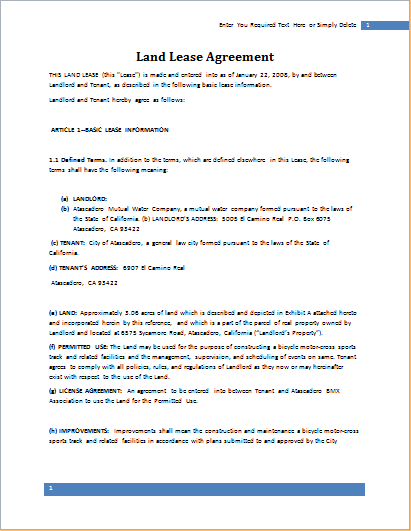 Land Lease Agreement Template
File Size: 119 KB mobile [Android+iOS] & iPad
Download Word (.doc) 2007 & 2007+
File Size: 51 KB
Download OpenOffice Writer (.odt)