Managing your activities at work is very important. All the tasks at a job should be prioritized according to their respective deadlines and value. This can easily be done by creating a time value matrix. It is a simple document which can be created in Microsoft Word on your computer. You can then print it so that you can refer to the hard copy any time. However, creating an office activities priority matrix can take a long time if you have a lot of tasks to perform. In order to save your time, you should use a template. It gives you a prepared matrix. All you have to do is fill in the required information related to your tasks.
You can prioritize your projects and other responsibilities. This matrix can be made for an entire month's activities at job. You can also create it for your daily tasks. In this way, you will always be well-organized at work. This template can be used for a variety of tasks. You can create a new matrix every month or so for new tasks. In addition, you can also update your existing matrix if there is a change in the current deadlines.
Such modifications can easily be made if you are using a template for office activities priority matrix. Therefore, it is a good idea to save it in your computer. It will then be easy to access and customized the matrix whenever required. This template can also be shared with colleagues or project team members.
Preview & Details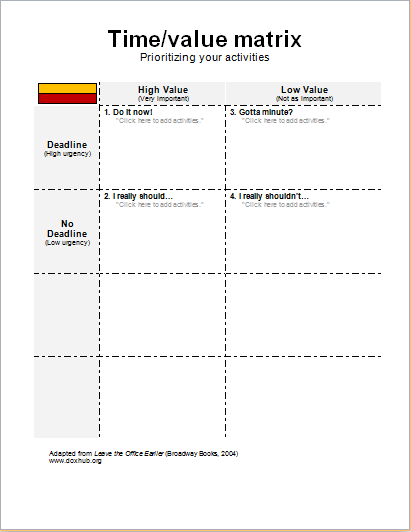 Office Activities Priority Matrix Template
File Size: 44 KB mobile [Android+iOS] & iPad
Download Word (.doc) 2007 & 2007+