BBQ Party Flyer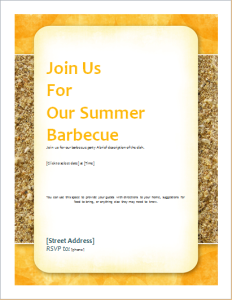 Having a BBQ when you are bored is the best thing to do and even if you have a plan of some party, then invite some friends also. If you are planning to have a BBQ over your place or somewhere outside, the best way to invite individuals is through a flyer as you can send it to thousands of the individuals at a same time. The flyer for a BBQ party should have all the things mentioned properly and you can add mouthwatering pictures of BBQ on it also to make it classy. A flyer should be attractive enough to attract the audience as much as it can, the flyer for a BBQ party must have the following things:
Title
Date
Day
Address
Contact number
School/College Party Flyer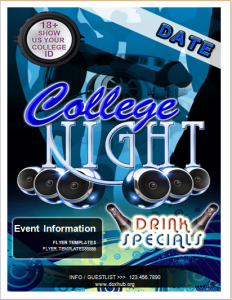 The events of schools and colleges are the most memorable ones and they should last a lifetime or even if the event is arranged by you to celebrate with them. The event of schools and colleges are the best source of creating memories with buddies, people love spending their time with college and school friends. So if you are arranging a party and you don't know the best way to invite your friends then pick up a flyer, makes changes in it. The flyer is the best way and it is not an expensive one also for inviting the guests. The flyer for a school/college party must have the following things:
Title
Details of the event
Date
Day
Time
Contact
Address
Picnic Party Flyer
In schools and colleges, picnics are arranged after every some time but not only that people also love to arrange them for enjoyment. For inviting the guests, special sort of invitation cards and flyers are made. You can choose any template from the internet and edit it; you can add the required information in the flyer. If you want to convey any message to the guests, you can add up in it.  The flyer for a picnic party should be as attractive as the party itself. The picnic flyer includes the following things:
All the details of the event
Type of picnic (college picnic or seasonal etc)
Day
Date
Time
Place
You can also include if you want to:
Ask the guests to bring a dish if it's a one dish party
Arrange games
Halloween Party Flyer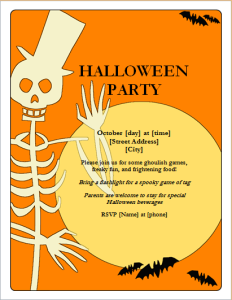 Halloween party is the event for which individuals wait all the year, so the flyer should fulfill all the requirements that can make it worth the wait. Halloween party flyer templates are available on the internet; there are many newest and hottest Halloween flyers for your Halloween Party. On the flyer of the Halloween party, you can add pumpkins, ghosts and picture of haunted houses as well. The flyer for a Halloween party should be very interesting so that the individual's even crave to come; the flyer for this includes the following things:
Name of the party organizer
Details of the event
Time
Date
Venue
Address
Contact number
Party Flyer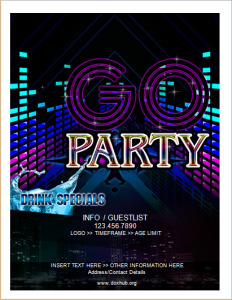 Choose an awesome flyer and get everyone excited about your party. Individuals spend a lot of time planning on their parties so the flyer should also be bombastic. It's time to rock by choosing any amazing flyer for your party. You can also pick up a flyer from the internet and can edit it.
You can Change the images
You can Change the fonts
You can Change the background
You can Change the colors
Through a flyer you can spread the word about your special event in style; a flyer for party includes the following things:
The location of the party
Invited by (host name)
Event
Theme
Address
Contact
Time
Date
Christmas Party Flyer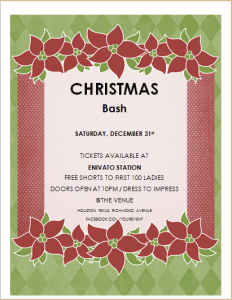 Christmas party flyer usually starts from Merry Christmas; it is to conquer the concentration of populace that, they unite at these clubs for the Christmas parties. You can decorate the flyers with a red scheme and make Santa Claus and Christmas trees along with the bells, deer, and the gifts. Make sure it is luminous in color. Add-ons can be, mentioning some super cool sentences like "celebrate this Christmas with us", "Come, join and have fun!" You can too write the deals that you are providing regarding eatery; the entry fee should be mentioned, saying that it is lesser than other clubs, to be competitive. You can individually write the fees for single and couples as people love when they get a bit of discount too. People like cheering up on Christmas so it also be printed that some nice appealing music will be played with great merry ambiance.
Dance Party Flyer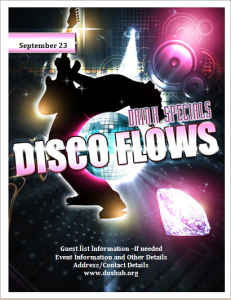 The dance party flyers should be very appealing as this is usually for the younger generation and this sort of generation something that is best, its party time should be written in capital letters and double bold so that the reader must for sure see it. People judge from the flyer appearance that hoe cool the party would be.
The colors should be radiant; attaching pictures of dancing girls and boys is a top-notch idea. Rapid, easy and cool words are also a great idea; these flyers should be short and to the point. Things like those that the entrance fees, date and venue should be mentioned and wordings like, electro party, dance party, let's rock, hip-hop dance party and dancing night are also some of the high-quality options.
Birthday Party Flyer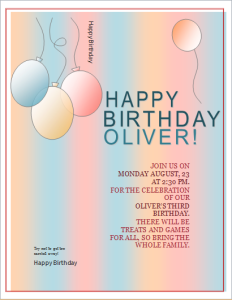 A great birthday party is something which everyone looks forward to every year. Organizing a wonderful birthday party and calling your friends over for fun makes your day memorable and awesome. Since a great birthday party needs a great birthday flyer, the need to create your flyer becomes inevitable. To create your birthday flyer, choose different birthday themed designs from internet for your flyer. Add details of your birthday which includes the venue for the party, date, time and dress code. Prefer bright colors over dim or light ones for your flyer. Be creative while making your flyer, this way you would make it eye-catchy. After making the flyer you can handover it to random people or whoever you want to call for your birthday.
See also 50 Editable Flyer Templates for MS WORD