Program and Catalogues
A company can advertise an entire range of products with the help of a program catalogue brochure. Interested clients can then order any of the products through an order form provided in the brochure. This makes the process of selling and purchasing easy. Pictures of the listed products are also provided. In this way, potential customers are attracted to make a purchase. Make sure you create a well-organized layout. The overall design and quality of the brochure would reflect the standards of your own products. A good idea is to make use of program catalogue brochure templates.
You will get a neat layout to begin with. All the designing has already been done. You merely have to list down your own products and add relevant pictures and figures. The extent of customization depends on the users. You can make any changes to the design and layout. Choose your own colors, font and images. The whole purpose is to make your brochure unique, attractive as well as effective. You must pay special attention to the order form.
The formatting must be perfect. There should be enough space for customers to provide all the required information. This includes name, address, phone number and other important information. Customers should not face any difficulty in writing down all of this. Therefore, you must design the layout carefully. Pre-made templates which are designed by professionals take care of all important aspects. Therefore, relying on one would be prudent. In the end, you will be able to create the perfect program catalogue brochure for your products.
Preview & Details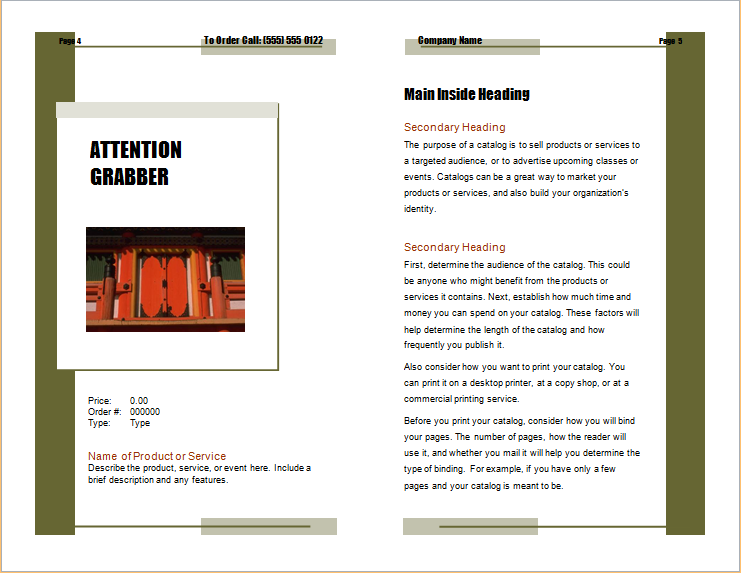 Program Catalogue Brochure Template
File Size: 191 KB mobile [Android+iOS] & iPad
Download Word (.doc) 2007 & 2007+