BUDGET ANALYSIS SHEETS
Sometimes, it is only a quarter of the month and you get the feeling that there is a need to check on to your budget. This urge is based on your analysis as well as on the temptation to look into the implementation of the budget plan by your family or institution. For this purpose, there is no better way than to form a quarterly budget analysis sheet to analyze the expenses during the quarter half of the budget. The analysis sheet is important because it would have certain repercussions on your management and mechanism issues.
By forming a quarterly budget analysis template, you would be able to jot down all the expenses and income during the first half of budget. This would also give you an idea about the pattern which would follow in the coming days. Therefore, the importance of the quarterly budget analysis template could not be undermined in a family or in an institution.
The template must consist of all the incomes and expenses in an orderly pattern. This way you could analyze your budget and pick out the weaknesses in your budget plan. A comprehensive quarterly budget analysis sheet template would also look into the extra expenditures which are causing your budget plan to suffer. The template would leave no issue regarding the quarter budget without paying sufficient heed. After the jot down of all the imperatives in the form of a template, you can further review the shortcomings and make efforts to remove those shortcomings.
PREVIEW & DETAILS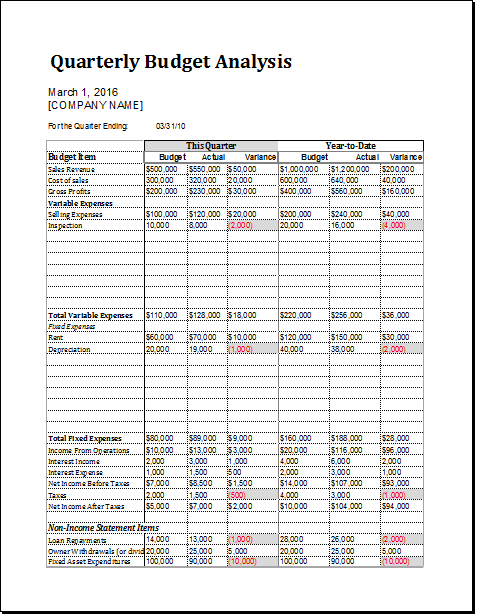 QUARTERLY BUDGET ANALYSIS SHEET TEMPLATE
File Size: 36 KB mobile [Android+iOS] & iPad
Download Excel (.xls) 2007 & 2007+
File Size: 22 KB
Download OpenOffice Calc (.ods)