DAILY, WEEKLY & MONTHLY SALES
A sales log template can be very useful for a store's daily cash register. On the other hand, this log can also be maintained for monthly evaluations. Overall, a sales log can help you keep a record for daily, monthly as well as annual sales. Different templates can be found on the World Wide Web. The layout of these templates varies. Therefore, you can easily choose the one which fulfills your requirements best. These templates can meet the needs of both small as well as large stores. At the same time, they can also be very useful for all types of online business.
A sales log is a kind of chart which enables business owners to assess and evaluate their overall sales activity at a single glance. The log can have different sections divided into rows and columns. Information about the product ID, price, and the selling date can be found in a sales log. Other pieces of information can also be included for a more detailed record. It can be a special single product or for all the commodities sold at a store.
Templates can be downloaded from the internet and printed. You can create an entire cash register by using copies of your preferred template. The job can be entrusted to your manager or assistant. Most templates are available free of cost. Therefore, you do not need to invest much on maintaining your sales record. It is an essential component for every type of business in the world.
PREVIEW & DETAILS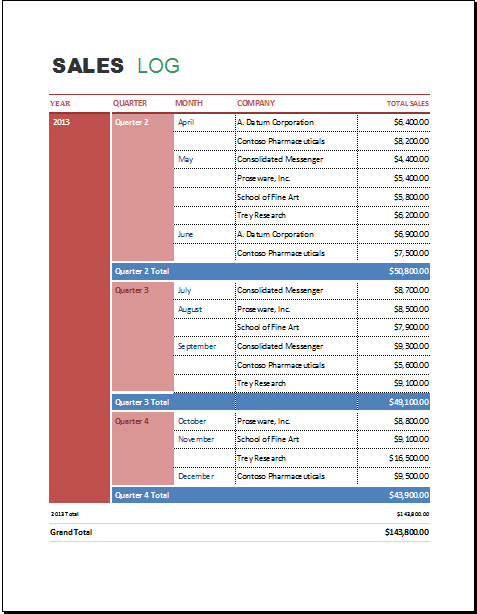 SALES LOG TEMPLATE
File Size: 123 KB mobile [Android+iOS] & iPad
Download Excel (.xls) 2007 & 2007+
File Size: 45 KB
Download OpenOffice Calc (.ods)