HOME BUDGETS
At instances, you feel that the budget is not quite going the way you wanted it to go. Under such conditions, you feel a responsibility to get a check on your budget expenses even before the end of the month. The preparation of such budget could become a hasty task as you feel unsure about the complexity of the job. But in reality, the task is not difficult to comprehend and perform if you choose the right option of using a template for the home budget. The template would eloquently address all your major budget issues while keeping in check the income of the family.
The semi-monthly budget could only turn out to be a successful affair if all the basic rudiments are kept in the mind while devising the template. Understandably, the mention of the income is pertinent in the formation of a successful semi-monthly budget template. Without comprehensive income details, you won't be able to aptly prepare an efficient budget sheet template.
After the appropriate calculation of the family income, you must dwell your energies on the expenses side. If you feel that some of the expenses are imperative you must take them into consideration at the very first stages of the template which must be prepared on the excel sheet. After the mention of basic rudiments, you could let down all other objects of lesser importance on the template to measure down the expenses. By following such patterns you would be able to form a potent home budget sheet template either monthly or semi-monthly.
PREVIEW & DETAILS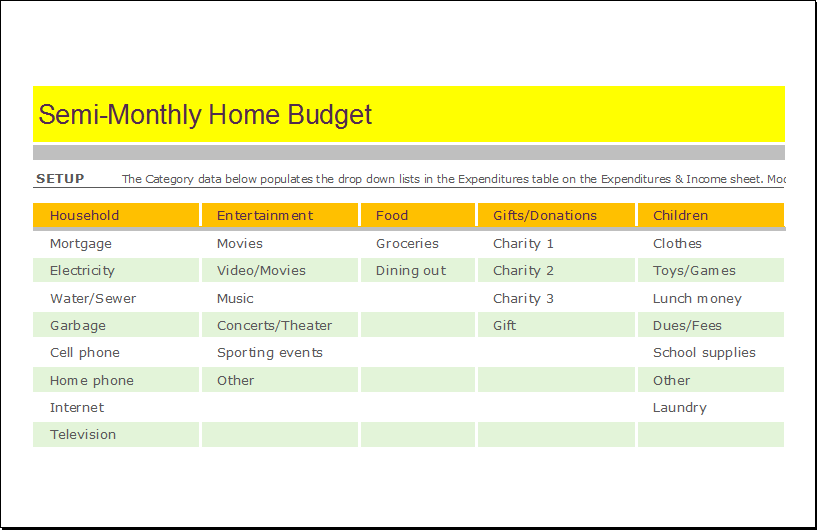 SEMI MONTHLY HOME BUDGET SHEET TEMPLATE
File Size: 59 KB mobile [Android+iOS] & iPad
Download Excel (.xls) 2007 & 2007+