Sports Award Certificates
Different types of awards are given at sports events. There are medals, trophies as well as certificates. For the latter, there are various categories. Sports certificates are awarded to the winners as well as participants. These sporting events may be held at schools and colleges for children. Likewise, they may also be held more formally at a higher level. At the end of such events, certificates are awarded to the players as well as the coaches. The design of sports certificates depends upon these factors.
The use of sports certificate templates can help you design any type of sports award. This is because these templates can be customized according to the requirements. You can modify the contents, choose your preferred colors and make other changes in a simple way. This whole process will be quick and easy. In addition, you would not need to invest a large sum of money on the designing process. This is because you can use the same template to create different types of sports certificates.
There is no need to seek the help of a professional. Similarly, no expensive software applications for graphic designing will be needed. One simple template can help you create many different types of sports certificates. The only required tool will be your computer. Design simple and elegant certificates for higher level sports events. On the other hand, you can create colorful designs for younger participants belonging to schools. Next, you can print the designed sports certificates and use them accordingly.
Preview & Details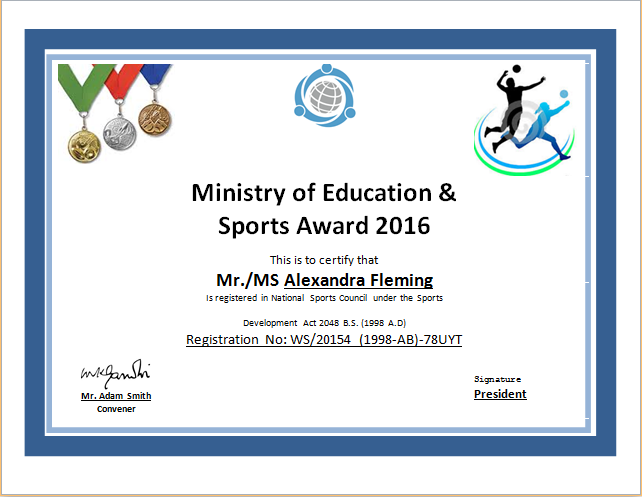 Sports Certificate Template
File Size: 142 KB mobile [Android+iOS] & iPad
Download Word (.doc) 2007 & 2007+