WEIGHT LOSS & FITNESS
Losing weight can be easier if it is done in an organized way. A weight loss log spreadsheet is just what you need. It helps you stay organized by maintaining a proper record. Often, professional physical trainers used such logs. Doctors, exercise coaches, and nutritionists also recommend it. It helps in keeping a track of your progress. In this way, it will be easier to find out how close you are to your goal. Likewise, you will be able to evaluate how much more effort is required.
You can record your weight in the log on weekly basis. On the other hand, it can also be recorded each month if the goals are not too ambitious. There can be different columns in a weight loss log. Usually, measurements for the height, weight, and age are recorded. The height and age remain constant, but the weight changes. Other variables to be included are measurements for the waist, hips, and chest. This will help you know how much fat you have cut down from these problem areas. This is particularly useful for women who wish to fit in small size dresses. Therefore, this log can record a lot of important numbers.
Beginners can look for weight loss log templates on the internet. In this way, you will get an idea about how to record the progress of your weight loss. Such templates can be modified according to your needs and printed for use. Your nutritionist or coach may also be able to provide you one.
PREVIEW & DETAILS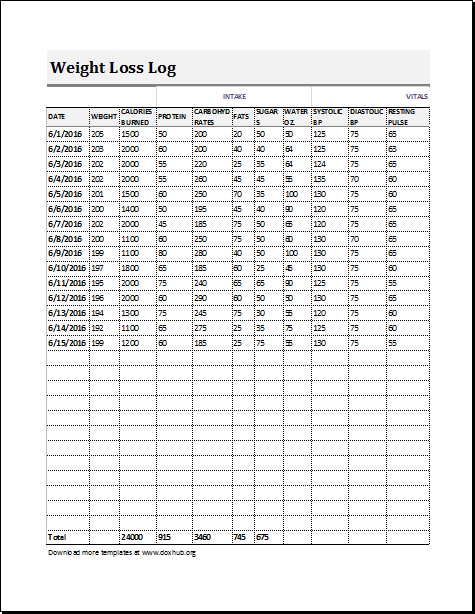 WEIGHT LOSS LOG TEMPLATE
File Size: 36 KB mobile [Android+iOS] & iPad
Download Excel (.xls) 2007 & 2007+
File Size: 17 KB
Download OpenOffice Calc (.ods)