Award certificates fall into various categories. The layout and overall design depends upon the type of award. The design process can take a long time unless you turn to customizable templates. A single template can help you create various types of award certificates in no time. The format and appearance can be modified each time you create a different type of certificate. In addition, the design also depends on the receiver. It may be for school children or for older individuals. In addition, the award may be for academic or work performance. It can also be for co-curricular activities like music, arts and crafts as well as other types of activities. The text, colors and pictures would be different for each type of certificate. More formal certificates given at higher level are simple.
On the other hand, certificates for school children can be more attractive. Ideas for the designs can be taken from the internet. You can also apply your own creativity and innovation. Designing without a template would require the use of graphics software. The know-how of such software is also important. This makes the entire process more complex as well as time consuming.
A customizable template for award certificates can make the whole job very simple. It will also be quick. In addition, no technical knowledge is required. Therefore, anyone can easily carry out the process of designing award certificates. Save the useful template in your computer. You will then be able to use it whenever you need.
Preview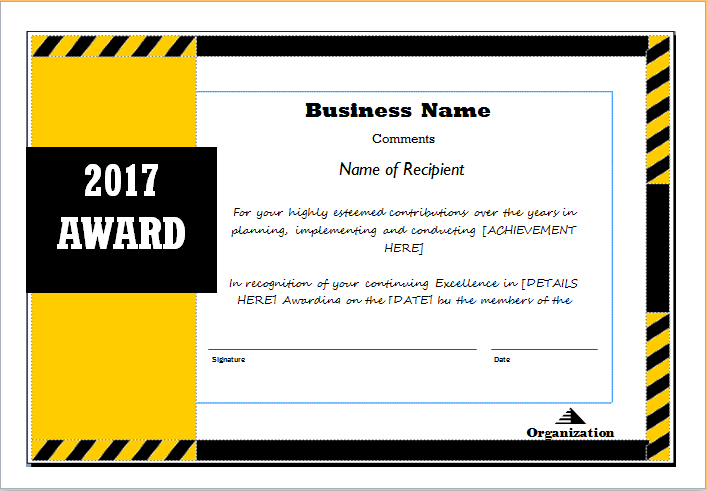 Award Certificate Sample Template
File Size: 119 KB mobile [Android+iOS] & iPad
Download Word (.doc) 2007 & 2007+