Birthday & Gift Certificates
It is often a hard task to select the right birthday gift for family and friends. In this case, a birthday gift certificate proves to be a perfect choice. Using this certificate, the birthday boy or girl can buy a gift of his or her own choice. It is, therefore, quite a valuable piece of paper.
Birthday certificates can be designed differently. It does not have to resemble an official certificate. Instead, there is a number of innovating ideas which can be used. The size, shape, and format of the certificate can be interesting and eye-catching.
There are a large number of birthday gift certificate templates available online. These can be easily found on the World Wide Web. These templates provide a pre-made layout and design so that you do not have to start from scratch. You can make modifications if you want to customize the certificate design. The whole design process can easily be carried out on your computer. You can then print out the certificate and use it for any upcoming birthday. Different business organizations and shopping stores also provide birthday gift certificates for your friends. The name of the receiver, the amount of money to be spent and the time validity must be mentioned. You can set any limit for the money range.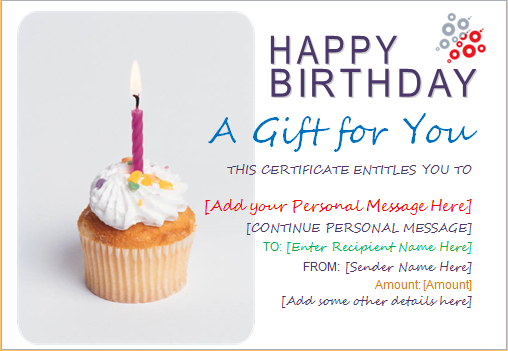 This certificate needs not be too large in size. Therefore, it should be designed accordingly. The online templates will provide you good ideas as well as formatting guidelines. Most of these templates can be used free of cost.
Preview & Details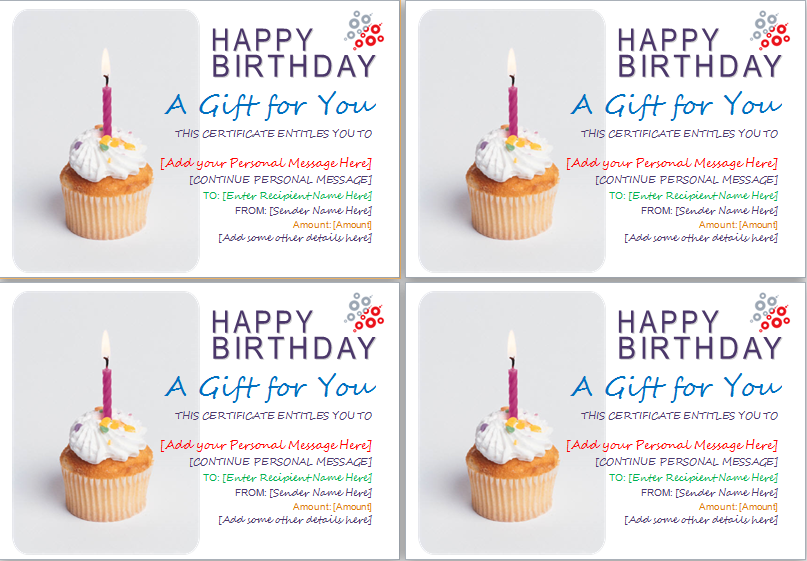 Birthday Gift Certificate Template
File Size: 809 KB mobile [Android+iOS] & iPad
Download Word (.doc) 2007 & 2007+
File Size: 660 KB
Download OpenOffice Writer (.odt)