EVENT ANNOUNCEMENT & BROCHURES
Various business events are often arranged all year round. Some are for official purposes while others are organized for the entertainment of employees. All such events need to be announced properly. One way is to send emails to all the employees. However, an even better way is to use business event announcement brochures. In this way, it is ensured that the message reaches the entire vicinity. In addition, detailed information can be provided about the event through a brochure. It can also be economical since one brochure can be circulated around the office for everyone to see. It could be for an important business seminar or for a family event like dinners and picnics. Templates can be used to create such brochures.
BROCHURE TEMPLATES
Whenever an event is coming up, the template can be customized for that particular occasion. It will, therefore, save lots of time. Such templates are often easily available on the internet. Mostly, these can be downloaded free of cost. This makes the whole process even more economical. On the other hand, ideas can also be found in business event announcement brochures from the internet.
A personalized brochure can then be created for your business event by using those ideas. It can be an interesting job. Make sure you make the brochure attractive. All the information should be easy to read at a glance. Plan the design beforehand. A good plan will lead to an attractive design which is able to fulfill your purpose properly. Employees can later be asked for feedback about the brochure for future designs.
PREVIEW & DETAILS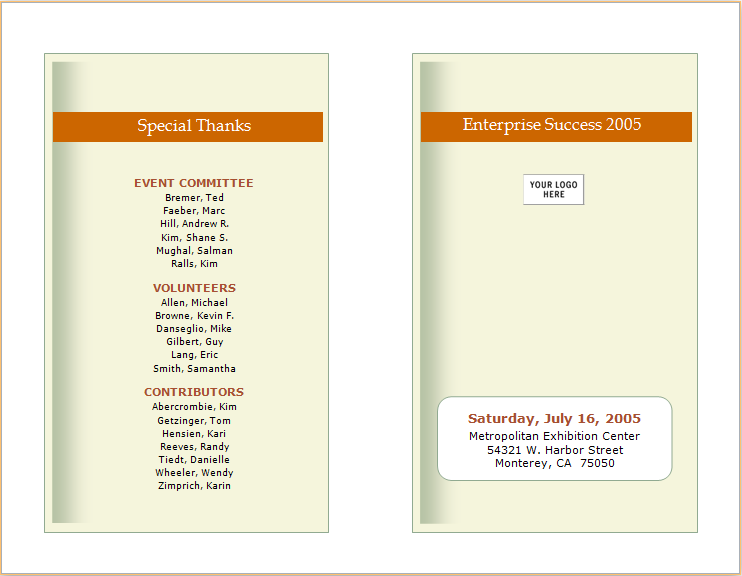 EVENT ANNOUNCEMENT BROCHURE
File Size: 44 KB mobile [Android+iOS] & iPad
Download Word (.doc) 2007 & 2007+
File Size: 21 KB
Download OpenOffice Writer (.odt)