OFFICIAL CALL RECORDS
Maintaining a call log is very important for call centers. It is also used by several other organizations such as offices and business places. An organization can develop its own format for maintaining call records. In addition, call log templates can also be used. The internet provides a plethora of such templates. Columns are present for different types of information. You can record details about the caller, phone number, date and time as well as the duration of the call. Likewise, a call record can also contain other pieces of information such as the purpose of a particular call.
There can also be a section for whether a follow-up has been requested by the caller or not. This type of record can play an important role for assistants and personal secretaries. They can maintain a call log for their bosses in a proper format. It is easy to read information if it is arranged properly in columns and rows. A call log fulfills this demand. Different types of call log templates are available.
TEMPLATES
It can also be used for maintaining informal call records. For instance, you can maintain a log at your house. Any one of your family members can take calls for you and fill out the log while you are out. Simply select the best template and print it. Keep the printed paper near the telephone. On the other hand, templates can also be used to maintain official records. An entire diary can be created to record call details.
PREVIEW & DETAILS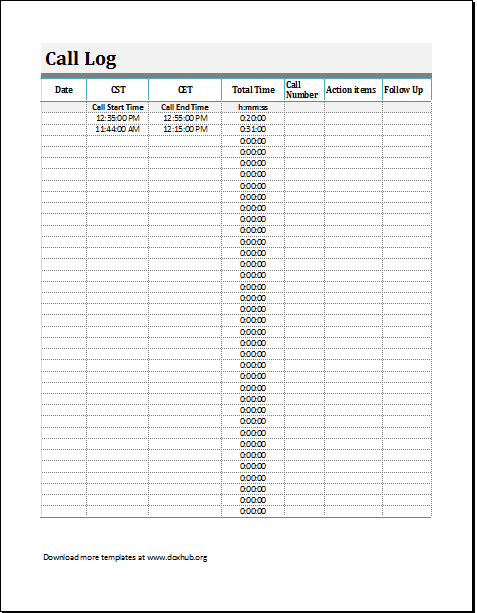 CALL LOG TEMPLATE
File Size: 33 KB mobile [Android+iOS] & iPad
Download Excel (.xls) 2007 & 2007+
File Size: 13 KB
Download OpenOffice Calc (.ods)