Christmas & Gift Certificates
A gift certificate can be very useful during one's Christmas shopping. It can be for products as well as for various services like the spa. Many shopping stores print their own Christmas gift certificates in spirit of the festive occasion. It is also a marketing strategy which attracts more and more customers. For this purpose, the gift certificate should be designed in an interesting way.
You can go for different sizes as well as shapes. Keeping it small will cut down the printing expenditure. However, it should be large enough for the contents to be properly visible. The internet offers a huge collection of Christmas gift certificate templates. These are very helpful for the designing process. You can choose from a plethora of color options, font styles and layout ideas. Any interesting images or figures can be added. In addition, you can add the logo of your own store or brand.
Some important elements should be included no matter what the design or size of the gift certificate is. These include the name of the receiver, the validity time period and the limit of the gift money. Any other conditions should also be mentioned clearly. It should also be stated whether the gift certificate is transferable or non-transferable. For this purpose, you should choose simple font styles in order to make the contents legible. On the other hand, interesting colors and patterns can be used for the background. The festive spirit of Christmas can be exhibited in a number of ways through the overall design.
Preview & Details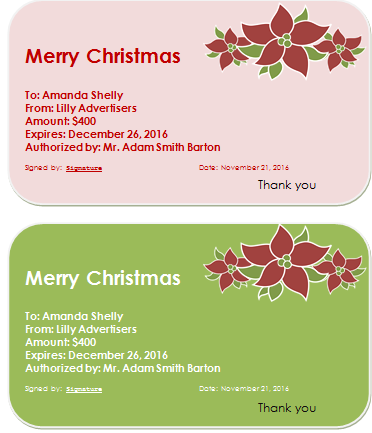 Christmas Gift Certificate Template
File Size: 119 KB mobile [Android+iOS] & iPad
Download Word (.doc) 2007 & 2007+