Cleaning Contracts
Written contracts binds a professional relation among the two parties. Therefore such documents must be properly drafted and written in a truly professional manner in order to avoid any misconception created due to communication gap among them. A cleaning contract document requires a few important things to be mentioned clearly these are discussed in detail below
Basic Information
A contract must include a few basic details like name of contract, name of the people associated with the contract and each concerned party of the contract. Beside this date and duration of the agreement is also included.
Language/Tone Selection
As with usual contract documents, a cleaning contract document is also written adopting a formal tone. The vocabulary selected is precise and meaningful. Wordiness and usage of complex sentence structure is often avoided.
Description of Areas
The most important factor in such a contract is the description of area that is to be cleaned. The surroundings and exact address of location must be mentioned. In addition to the description of area, the work done by the cleaning company is also included in the statement of contract.
Solving any Disputes
In the contract it is important to mention that what must a company do to resolve the dispute if it arises in the duration of contract. The terms are also supposed to be mentioned in the contract that during which any party can terminate the contract.
In a nutshell, if you want to generate a sound contract then a few samples must be inspected and following the statements mentioned above would be helpful.
Preview & Details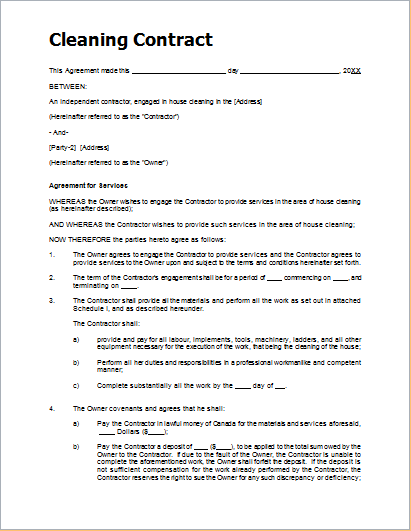 Cleaning Contract Template
File Size: 36 KB mobile [Android+iOS] & iPad
Download Word (.doc) 2007 & 2007+
File Size: 23 KB
Download OpenOffice Writer (.odt)