BUDGET SHEETS
It is obvious that you would be given the task of handling college budget during your stay at the college in the field of administration or any other designation. At first, you would naturally find the prospect difficult to handle because it would demand too much of a responsibility from your side to take care of college budget. But the prospect could be made easier if you carefully plan some of the basics in regard to budget handling. The basic cog in the college budget handling is the formation of the budget template which would help you to effectively list down all the budget expenses and incomes. It is easy to create a budget template in today's day and age. You could easily learn to create it in excel.
If you, fortunately, know about the handling of Microsoft Excel or OpenOffice Calc it would be an easy task to create a template that would perfectly suit your purpose of jotting down all the details in regard to college budget formations. Coming to the mechanism of template formation you must independently mention all the expenses with the amount dedicated for the budget. To decrease the chance of mismanagement in the budget, create explicit lists to signify all the major points in your budget template.
You can add all the financial details in your budget sheet to avoid any ambiguity in the formation of the budget template. If you could successfully form the spreadsheet of the college budget you would be able to handle the budget for your college expenses in an effective manner.
PREVIEW & DETAILS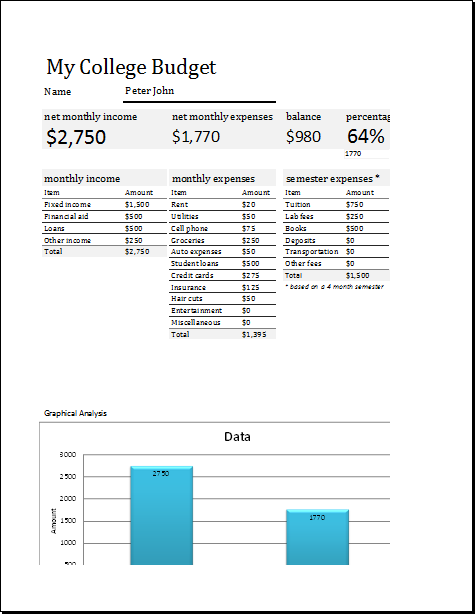 COLLEGE BUDGET SHEET TEMPLATE
File Size: 46 KB
Download Excel (.xls) 2007 & 2007+
File Size: 29 KB
Download OpenOffice Calc (.ods)