Certificates for Congratulation
The best way of appreciating children for their achievements is through congratulation certificates. It may be presented to them by their school as well as by parents. It is particularly encouraging for your children. The certificates can be preserved as memories. Children will truly cherish this collection of achievement rewards. Such certificates can easily be created at home.
If you are not good with art and crafts projects, you can turn to your computer for help. Log on to the internet to find a large collection of congratulation certificate templates. You can find hundreds of interesting and fun design. In addition, most designs are customizable. This means you can make changes according to what you prefer.
The basic layout of such certificates is the same. There are spaces to add the names of the receiver as well as the presenter. Moreover, the achievement is also mentioned. It may be related to a child's academics, sports or any other activity at school or home. You can choose a template with interesting artwork. It depends on the age of the child. For younger children, choose fun colors and attractive designs. On the other hand, you can go for a simpler and more elegant template for your older teenagers. Since it is an informal certificate, you can go for any design. Similarly, any font style and colors can be chosen. Once you have finalized the design for congratulation certificate, you can print it out. The printing job will only take seconds if you have a good printer at home.
Preview & Details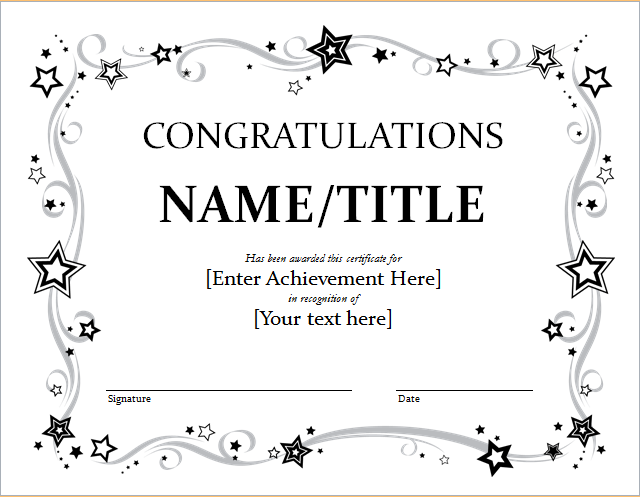 Congratulation Certificate Template
File Size: 346 KB mobile [Android+iOS] & iPad
Download Word (.doc) 2007 & 2007+
File Size: 349 KB
Download OpenOffice Writer (.odt)