Re. Letter of Appreciation
Dear Staff, you receive many daily letters and emails replete with notifications, announcements, and follow-ups; however, this letter is written to thank you for your continuous efforts and hard work. We recently received an email from the [Designation of the person] of [Name of the Company]. They wrote to confirm the project and approved the proposal sent to them.
This project is one of the most important projects for the Company in terms of the Company's wide recognition and a chance to prove its potential to the market. We are happy to inform you that we won the project, and the proposal drafted by our hard-working team members has been accepted and approved by the Senior Project Manager of the [ Name of the Company].
At this moment, we want to tell you that winning this project would never have been possible without your efforts. Your competence and dynamic nature have always helped the Company reach its goals and complete assigned tasks on time. Having a team like yours makes a huge difference as we look back and see our progress. All the progress we made during these past ten years is all due to your hard work and tireless efforts.
I am thankful to you for being supportive, cooperative, and resilient all the time. Your consistent support and trust in the potential of this business brought me to this high position. I take credit for telling you how precious you are to our Company, and we honor your services.
Thank you for being part of this work.
Regards,
[Name]
[Company]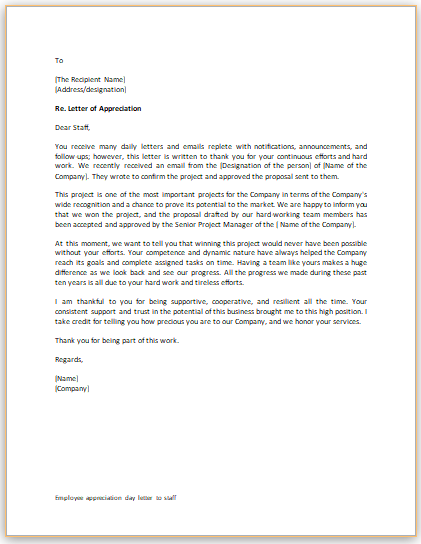 (Sample -2)
Re. Letter of Appreciation for Staff
Dear All,
I am delighted to look at your performance in the past three months. I reviewed the Human Resources report reviewing the employees' performance in the past three months. I am impressed to know that there was a vertical line going up in the demonstration of your performance. Our Company saw many external and internal changes during the last three months.
There were both; structural and administrative changes in the Company's system. Also, the Company confronted many difficulties in terms of changes in the taxation system and new federal laws. We were confronted with the only option to lay off, but we strictly avoided and denied this option and aimed to work together.
I am glad you proved my perception right, as I firmly believed in my team. All the employees have demonstrated competence, punctuality, and unmatched dedication. I am glad to see the glued teamwork among all the employees who worked together, enabling us to sign all the main contracts.
I am thankful to you for your devotion and dedicated hard work. I am looking forward to a hi-tea with all of you to cherish the moment of success and aspire to be more productive and successful in the future. The venue for the tea shall be shared soon in the Mail group of the office.
Thank you for your efforts.
Regards,
[Name]
[Designation]
[Company]