Re. Recommendation Letter
To Whom It May Concern, I am [name of the person], writing to recommend [name of the employee] for the vacant position of [name the designation]. He is an exceptional person with an excellent work ethic and possesses the qualities of a great and hardworking worker. I personally recommend him to your platform and assure you of his good work and sheer dedication.
Mr. [name] worked in my organization for [#] years which he had to leave ultimately because of his immigration problems in the [name of the city/state]. Due to some personal reasons, [name] had to move back to his hometown. He worked in my organization in several positions during his stay and always demonstrated excellent interpersonal and professional skills at work. He proved himself to be a very dedicated and hard-working employee as is shown in his actively participating behavior and punctuality during his work at [name your organization.
He is very adaptive by nature which makes him a great colleague and team member to work with. He is very friendly and it is always a pleasure to be in his team. Being a flexible person, his adaptability helps in handling clients from different backgrounds and perspectives. He is very creative and therefore, brings innovative solutions to the problems halting any task. This credential of his makes him a great problem-solver and quick decision-maker. He is not impulsive but very quick at learning and understanding the root cause of any issue.
He has always been an asset to my company and I believe he will be more than what he is to your company. I highly recommend him for the position of [name of the position]. You will be pleased to have him on your team. I have attached his office profile with this letter, however, do not hesitate to ask further questions about him if required. Thank you for considering my suggestion.
Sincerely,
[Name]
[Designation]
[Company]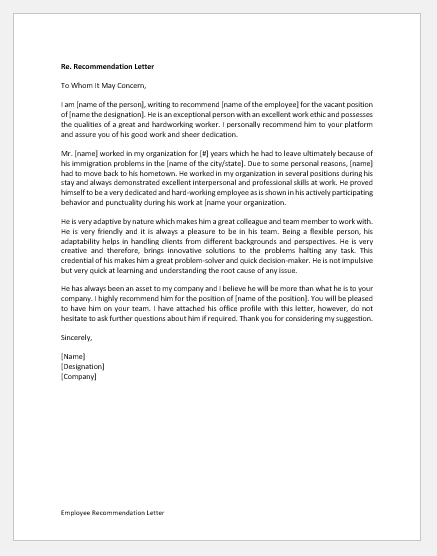 Sample 2
Sylvia Elif
524 Main St., Valley Stream, PA 19, +1-XXX-555-66
September 28, 2035
Mr. Stalin Halker
Manager
Infosys Company
786 Main St.
Huston, WA 43389
To Whom It May Concern
It gives me immense pleasance to recommend Mr. Meezo as a candidate for the position of communication assistant at your organization. He had been working in my office on the aforesaid post from 203X-203X. As a communication assistant, he was supposed to maintain records of all official proceedings so as to ensure secrecy of the same. Throughout the time he spent with our organization, he executed all the tasks on time and demonstrated excellent critical and analytical skills which would make him a valuable employee at your organization.
He did a terrific job in his position and proved himself a no-parallel asset to our organization. He has been gifted with certain traits such as excellent communication and verbal skills, an extremely organized personality, an ability to work independently, and to perform multi-tasks with zeal to wind up all within the specified time frame.
Moreover, as I remember, once he was given the additional duty of imparting training to our internees. Fulfilling our expectations, he accepted the challenge and completed this task in an efficient way. In spite of his busy schedule, he offered his assistance to all office mates through thick and thin. Consequently, he built his rapport with several constituents of the organization including employees, clients, and higher management by means of his professional behavior.
Considering his performance, there would hardly be any exaggeration in stating that he is highly suitable for your organization because of his excellent communication skills and trustworthy behavior. I wish him all the best for his future endeavors.
Sincerely,
Signature (Hard Copy Letter)
Sylvia Elif