Official Business Documents
An executive summary is an important official document. It is also referred to as a management summary. As its name implies, it is used to summarize a larger document, such as a business proposal or a report. It helps readers in understanding the main points without having to refer to large materials of information. Writing this summary is not an easy job. The writer has to go through large volumes of reports before creating their summary. However, the job can be simplified by using an executive summary template.
It can be used to present the summary in various ways. For instance, it can be in the form of a short report, a Microsoft word document or a PowerPoint presentation. A prepared format is available which makes the writing job quicker. Changes to this format can be made according to the needs. This is because the template is customizable. For instance, you can add or remove headings, adjust the number of pages and choose the required font styles in sizes. Such a template can be used to write an executive summary for any type of report or business proposal.
The same template can be used and customized any time according to what the requirements are. It makes the entire job free of hassle. Therefore, you should save the executive summary template in your computer for easy access. It can help you create error-free summaries quickly. In addition, you can also focus on how the summary is presented. This is important in order to give a good understanding to the audience.
Preview & Details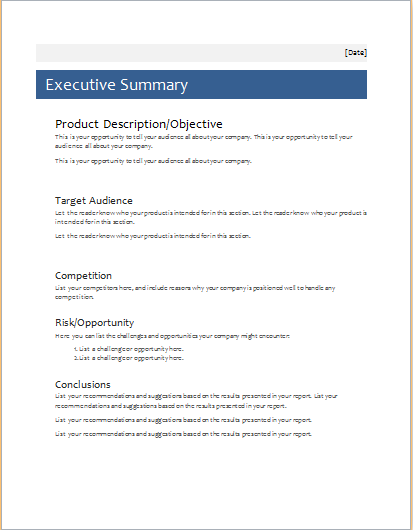 Executive Summary Template
File Size: 39 KB mobile [Android+iOS] & iPad
Download Word (.doc) 2007 & 2007+