BUDGET SHEETS
We need to spend in order to keep our going smooth and uninterrupted. The day we stop spending on our basic whims and necessities we start to face problems about our existence. Therefore, the expenses are the imperative part of the life which must be considered with seriousness while moving through the phases of life. Despite the fact that some of the expenses are necessary we must keep in the mind that there is always a room for better management of our expenses. These expenses could be better managed by a little planning. For the better management of expenses, we must contemplate to the formation of budget template for our expenses which must resonate with our needs. A successful expense budget sheet template must consist of the total income at the start of the template so that you could get the proper idea about the whole scenario regarding your budget.
After the explicit mention of your income, you must categorize your expenses into several parts. The categorization would help you independently judge your expenses in a proper way. After the categorization, you must mention the permanent expenses which could not be compromised regardless of any situation.
Afterward, the template must take into consideration the aspects such as minor or adjustable expenses which could be sorted out by careful management from your side.By drafting out such an eloquent expense budget sheet template you could easily pave the way for better budget expense management and create room and solace for yourself.
 PREVIEW & DETAILS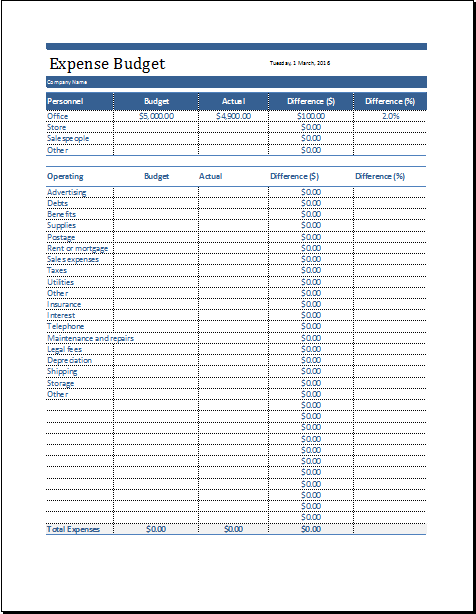 EXPENSE BUDGET SHEET TEMPLATE
File Size: 38 KB mobile [Android+iOS] & iPad
Download Excel (.xls) 2007 & 2007+
File Size: 18 KB
Download OpenOffice Calc (.ods)