Gift Certificates
Garment shopping gift certificates are great for business promotion. More and more customers would be attracted if such vouchers are being gifted. New deals can be introduced and brands can be promoted through these gift certificates. This offer can be made on special occasions like the Christmas. This is when shopping activity is at its peak. Your garments shopping gift certificate would be really appreciated by eager customers during this time.
Design these vouchers beforehand so that you are ready to roll when it's the right time. The design process would not take much time if you turn to templates available on the internet. Different types of gift vouchers can be created this way.
You can customize the template design in order to create your own gift certificate. Use interesting colors and designs. A gift voucher can also be simple. However, making it more attractive would catch the attention of more customers. For this purpose, you can also opt for interesting shapes. You do not have to design it in the conventional rectangular or square shape. Instead, you can shape it like a dress since the gift certificate is for garments. This will be really appreciated by your customers. Although a shopping voucher is a small piece of paper, the design and quality reflect the standards of your brand. Therefore, use good design ideas and make give it a unique look. You can find hundreds of innovative ideas through gift certificate templates. Use them to save your time and energy.
Preview & Details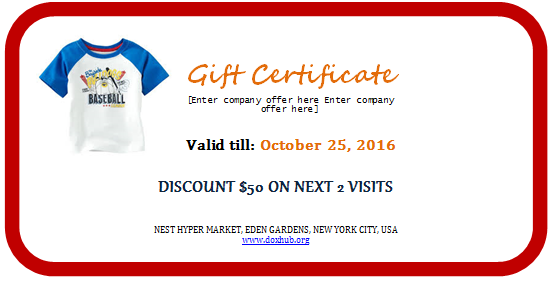 Garments Shopping Gift Certificate Template
File Size: 35 KB mobile [Android+iOS] & iPad
Download Word (.doc) 2007 & 2007+