Gift Certificates for Holidays
Gift certificates are always exciting at any time of the year. However, these coupons are particularly useful during the holiday season. Be it Christmas, Thanksgiving or the New Year, eager shoppers consider shopping gift certificates to be really helpful. These are offered by many stores in spirit of the holiday season. It is a good strategy used for marketing and promotion of various stores and brands.
The gift certificate can be offered upon purchase of a certain brand. Alternatively, it can be gifted upon purchase worth of a certain amount of money. In both the cases, the sellers enjoy benefits. At the same times, buyers also get an incentive to make more purchases. These gift certificates are also available on online stores. The designing process is very simple if a holiday gift certificate template is used. A huge number of these templates are available on the internet. You can search through hundreds of designs and select the best one.
You can also make modifications to the layout or design according to your demand. Overall, these templates make the whole designing job extremely simple. In addition, the designer can also save his or her time. Another benefit of using gift certificate templates is that no professional designing expertise is required. Each template offers a pre-made design. Therefore, it is ready to be used right away. You only have to fill in the necessary information. This includes the gift money limit, the name of the store and the expiry date of the gift coupon.
Preview & Details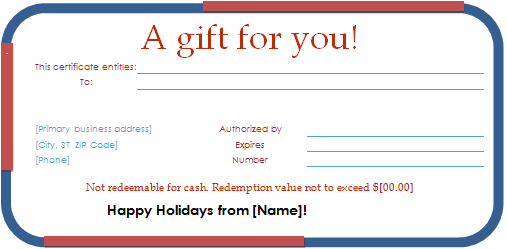 Holiday Gift Certificate Template
File Size: 32 KB mobile [Android+iOS] & iPad
Download Word (.doc) 2007 & 2007+