MONTHLY BUDGET SHEETS
House could be compared to a small industry as it requires money to keep the going smooth and simple. Therefore, it is evident that money plays an important role in holding the family industry together. If the mechanism of the family is economically perturbed, the family would struggle to maintain a collective demeanor of discipline and comfort. Eventually, it becomes important for the family members to take care of the household budget so that the family affairs could be maintained in a feasible manner. For this purpose, there is no option better than the formation of the monthly budget template. This template would help you to determine the income and expenses of the family. It would be beneficial in tightening some of the loose expenses which are causing unnecessary abhorrence to the family budget.
In the beginning part of the budget template, you must clearly mention all of your income to be absolutely sure about all the other elements of the budget. You can mention the collective income if someone else from your family is also contributing to the household expenses. During the formation of the budget template, you must categorize the expenses into two categories.
One category must refer to the fixed costs and expenses of the family. These expenses are permanent and you have to pay for them regardless of the situation. These expenses are the items related to food, loan and rent payments. The second kind of expense is a variable expense which could be altered according to your budget. By taking these two types into account, you could easily plan out an effective household monthly budget sheet template.
PREVIEW & DETAILS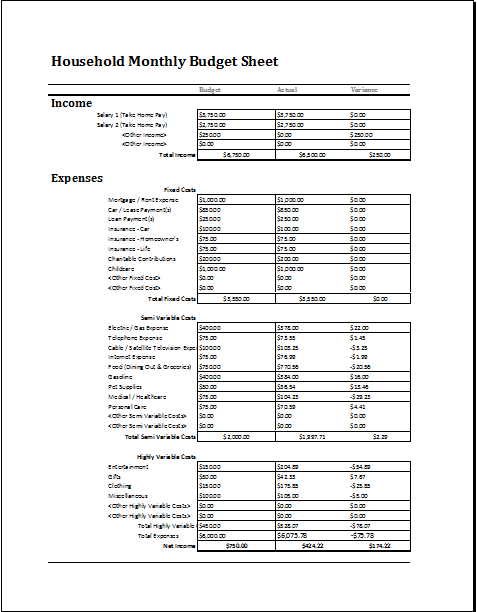 HOUSEHOLD MONTHLY BUDGET SHEET
File Size: 34 KB mobile [Android+iOS] & iPad
Download Excel (.xls) 2007 & 2007+
File Size: 19 KB
Download OpenOffice Calc (.ods)