Money might be a necessity to live a happy life. But we all have situations where we do not have any money with us. This could be due to poor spending habits, losing a job, or any other uncertain situation. Whatever the matter, not having money can be a stressful situation.
The situation can be different as well. We might have enough money for our day-to-day routine but not having money can leave us depressed and stressful. What a bad feeling it is to know that you want to buy your own car but you do not have enough money.
These days, most of the people will take loans from the banks to finance their small-scale businesses or even buy a small car. The good thing about bank loans is that it is readily available cash. And you do not have to wait years to save money and buy what you want.
A bank will give you a loan as per your capacity to pay it back. If you are taking a loan to finance your existing business, the bank will pledge you the money per the worth of your business. When a bank gives you a loan, the only condition that a bank has is to pay back the money on regular basis along with the interest amount.
The bank never claims any ownership of the loan in the business. This is one of the biggest benefits of taking a loan as the ownership remains with the owner.
Having various benefits, loans can also have some disadvantages. One of them is the hardship of getting a loan. If you do not have a stable business, you might not be able to get the additional finance from the bank that you need.
Taking a loan should never be a hasty step. You just value all your options and the paying capacity before taking this decision. Paying back a loan can be a stressful process. So, it is very important to understand the amount of loan and the interest that suits you best.
A loan calculator is a good technique to analyze what amount of loan you need, the expected interest rates and the installment that needs to be paid every month. Loan calculator is a good way to have a look at the amounts and interest rates at a glance.
Loan Calculator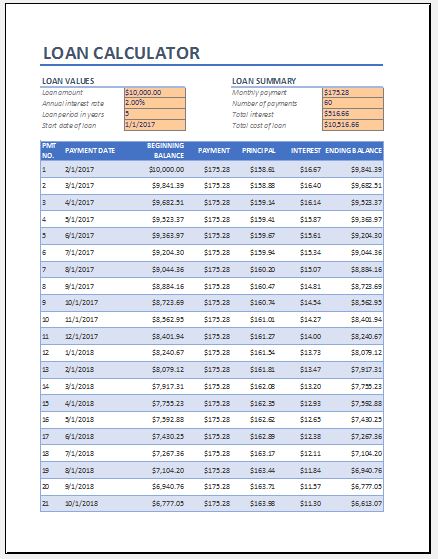 Loan Comparison Calculator