NEW OFFERS & BROCHURES
Promotional offers must be advertised properly. You can use brochures in order to introduce new offers. It is a good way of spreading your message throughout the masses. Brochures can easily be handed out to people at different places. It is more cost effective than making a television commercial or billboards. A new offer brochure is particularly useful for limited time offers. It can be for a sale or discount offer. Likewise, promotional codes and discount codes can also be provided in such brochures. It will be an incentive for potential customers to have a look at your brochure and visit the store.
Apart from such incentives, you need to make your brochure attractive in other ways as well. Making it colorful and vibrant can make people interested in it at a single glance. Moreover, you can turn to innovative ideas to make your new offer brochure stand out.
BROCHURE TEMPLATES
Turn to the internet in order to look for such ideas. You will also find online templates for creating such brochures. Using these templates saves a lot of time. All you need to do is provide your own content and make a few changes. This will customize the template according to your requirements. Use catchy headings and interesting font styles. Similarly, use good artwork in order to catch the eye of your potential customers easily. Keep the brochure small in order to make it more cost effective. In this way, you can print a larger number of brochures within the same budget.
PREVIEW & DETAILS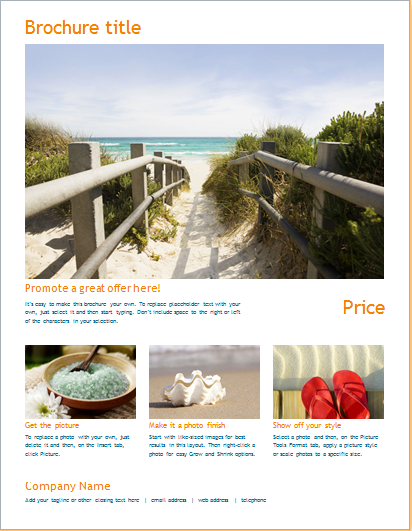 NEW OFFER BROCHURE TEMPLATE
File Size: 3433 KB mobile [Android+iOS] & iPad
Download Word (.doc) 2007 & 2007+