Price Quotations
A price quote is a cost estimate given by a seller to a potential buyer. These estimates are generated upon the client's request. It may be for specific products as well as services offered by an organization. A price quote may be generated on a small scale or a large scale depending upon the number of requested products. This job can be complicated as it involves complicated calculations. In addition, it can get tiring if it has to be done by a seller on daily basis. Therefore, you should simplify your job. This can be achieved through a price quote template.
The template is well-organized and pre-formatted to make your task easier. It can be used to make the necessary estimates within seconds. In this way, you can provide price quotes to your clients promptly. Multiple quotes can be created easily on the same day.
A single template will help you make cost estimate for various products and services as requested by different clients. A perfect price quote has certain important features. It provides prices for the requested items in the form of a detailed list. A date is also mentioned till which the quotation will remain valid. This is important because prices vary from time to time according to the changing costs of material and labor. In the end, the company's contact details are also mentioned. This helps the clients contact the seller in case of queries. Moreover, terms and conditions for the current price quote are also specified if there are any.
Preview & Details
Price Quote with Tax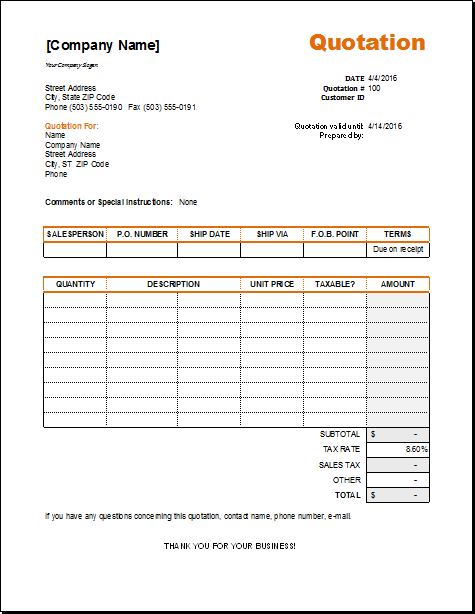 File Size: 42 KB mobile [Android+iOS] & iPad
Download Excel (.xls) 2007 & 2007+
Price Quote without Tax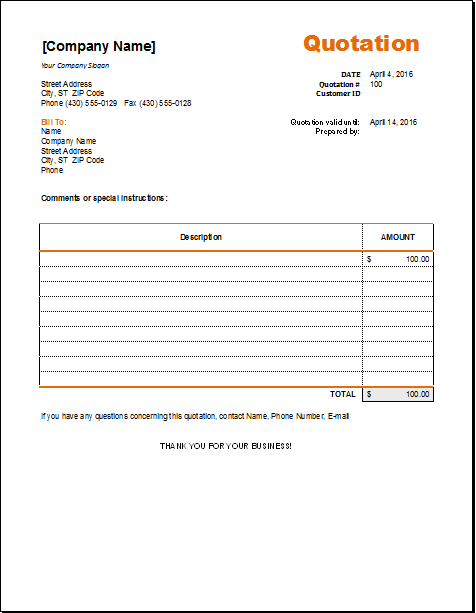 File Size: 32 KB mobile [Android+iOS] & iPad
Download Excel (.xls) 2007 & 2007+