BROCHURES & PRODUCT SALE
Brochures are a great way of advertising. In addition, detailed information about a product can also be provided. This may include background, uses, instructions as well as prices. A product sale brochure with price list is very useful for shopkeepers. They keep it for large products like consumer goods. It helps them in telling the prices to the customers by referring to the brochure. Such brochures should have a neat and well-organized layout. In this way, prices for different products can be checked at a single glance.
These brochures are mostly developed for the sake of providing information only. Therefore, the design can be kept simple. However, the formatting should be well organized. Templates can be used to create these brochures. You can find plenty of them on the internet. These templates are well-designed with useful features. You can save your time by using them. Simply add your customized content to create your own product sale brochure with price list. Prices may keep changing. In this case, you can create updated brochures and distribute them among the sellers. For this purpose, templates play a very useful role.
You do not have to make your brochures from scratch every time the prices change. Instead, you can simply use the same template to make the required modifications. This makes the whole process very easy for you. Therefore, look for online templates which can help you create your brochure. A customized product sale brochure can be created very easily through this simple process.
PREVIEW & DETAILS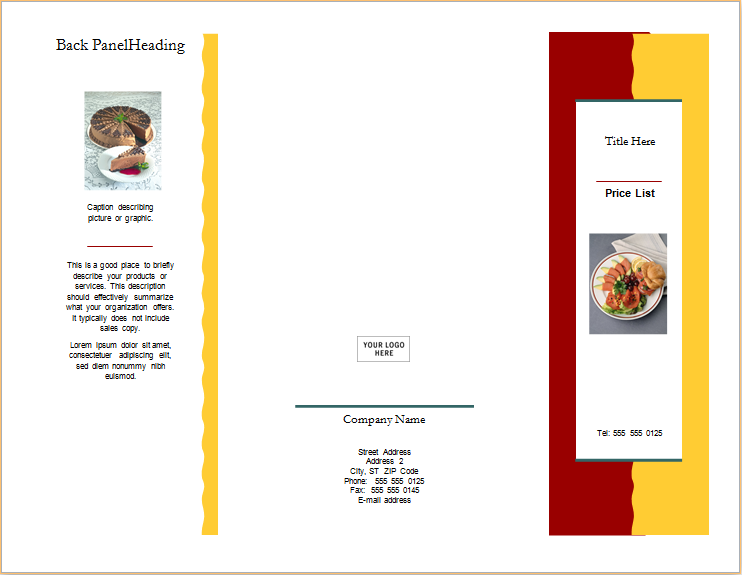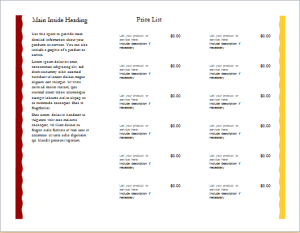 PRODUCT SALE BROCHURE with PRICE LIST TEMPLATE
File Size: 119 KB mobile [Android+iOS] & iPad
Download Word (.doc) 2007 & 2007+
For more brochure templates Click Here