PRODUCT SALES & BROCHURES
A product sale brochure can advertise a brand effectively. It can be more useful than other methods of advertising in many ways. This is because more information about the product can be provided in a brochure. Billboards, television commercials, and radio ads cannot cover all aspects of a product. Therefore, you can select brochures as a good option. An attractive design and interesting content will make more readers turn to your brochure. For this purpose, look for product sale brochure templates on the internet. These templates have been designed by professionals who are well aware of the general requirements. This means you can create a wonderful brochure even if you are not very good at designing. All the formatting and designing has already been done for you by experts.
You might have to pay in order to use such templates and avail all the premium features. This investment will prove to be very fruitful for your product. You can attract more customers if you manage to create an attractive brochure. Therefore, investing some time and money in this process is a good idea.
You can also find many templates which are free. All you have to do is carry out some customization. For this purpose, you need to be good with computers. The end result will then be great for you. In this way, you can create your own product sale brochures. This method of advertising can be much less costly than creating television and radio commercials. It can be very effective at attracting the masses.
PREVIEW & DETAILS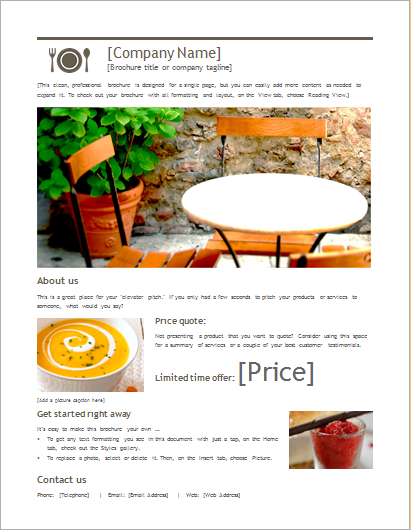 PRODUCT SALE BROCHURE TEMPLATE
File Size: 1412 KB mobile [Android+iOS] & iPad
Download Word (.doc) 2007 & 2007+
To view & download, more brochure templates CLICK HERE