Receptionist Surveys
Survey is the important tool for the administration of a company and these enable the owners to know what is required further for the proper working of a company. If a person wants to get himself aware related to the quality of services he is offering and the ways to improve these further then a survey form is required. A receptionist survey form tells a company that what customers have a notion regarding to the particular company. The questions that must be included in a survey form are
How long does a customer have to wait in a queue before he was entertained?
Were the services provided helpful or according to the desire of consumer?
Was all the required information conveyed when you have a chat with receptionist?
Was this the first visit by the customer? If not then how many times does he has visited in the office? How was the response each time the person visited?
Can you share any suggestions to improve further the current situation?
Basic Purpose of the Receptionist Form
It is basically designed to check the satisfaction level of the visitor. In addition to this it helps to identify the problems that the customers are facing leading to a decrease in public interest in your company. Besides this a reception survey form is a great way to improve all the flaws in the company's policies.
Benefits that can be attained
Several benefits can be earned by a company from this form. With the help of this service one can get valuable experience and thought of the customers leading towards the improvement in system and a better reception item. Following is given a format of this survey form. Download, customize and print to get the job done.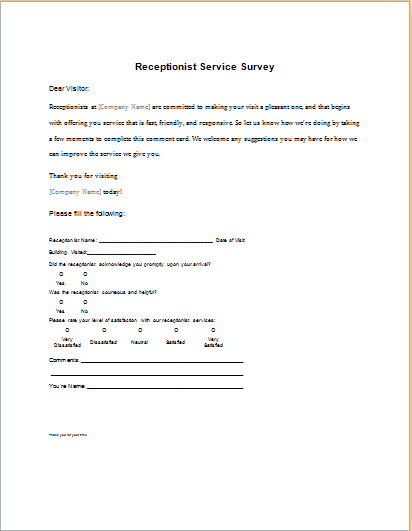 Receptionist Survey Form Template
File Size: 36 KB mobile [Android+iOS] & iPad
Download Word (.doc) 2007 & 2007+