Restaurant & Gift Certificates
Eating places do a booming in business owing to food lovers all around the world. However, the competition is also immense among various restaurants. A restaurant gift certificate can help you attract more clients to your eating outlet. These certificates can be offered out on special occasions like the Valentine's Day or the New Year. It is an incentive for food lovers to visit your restaurant.
Design and create your own restaurant gift certificates before the holiday season. There are several benefits of using templates for this purpose. Firstly, you save lots of time since the templates already have a layout. This ensures that you do not have to begin the design process from scratch. Secondly, no expertise is needed. The templates offer a number of options through which you can easily create your own restaurant gift certificate.
The certificate can be customized by selecting your preferred options. Every aspect of the design will be according to your demand. Select the right colors, font styles and sizes. The size and shape of the gift certificate will depend on the design and contents. Add your restaurant's name which should be highlighted by making it bold. Your brand's special logo can also be added. You can capitalize or bold all the important contents. This may also include the name of the receiver. You may use figures or pictures. Photos of your own restaurant or specials can be added to tempt your potential clients. All of the designing and formatting options are available if you use restaurant gift certificate template.
Preview & Details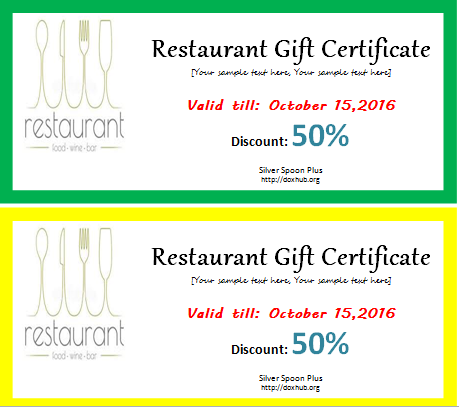 Restaurant Gift Certificate Template
File Size: 159 KB mobile [Android+iOS] & iPad
Download Word (.doc) 2007 & 2007+