Sales Quotations
A sales quote allows a client to get information about the cost of a product or services. Often, these costs vary. This is because the price of the material or labor may change depending upon different factors. Therefore, a sales quote is important in these cases. It can be requested by potential customers for any products or services which they wish to purchase. A proper sales quote is then prepared by the concerned organization. It is created with a formal format.
A sales quote template can be used for this purpose. It offers a general pattern for the layout. This layout can be modified easily by using customization options. In this way, a specific sales quote can be prepared according to the demands of the client. It starts with the company's name and address at the top. Then follows the client's name for whom the quote is prepared. The requested prices are then enlisted. This format provides clarity. The contents are easy to read at a single glance. This quote can be prepared using Microsoft Excel.
There are templates which can help you create your choice of document in Word or Excel according to the requirements. The required tables and lists are already available. You just have to fill in with the right content including the names of the products and their respective prices. In this way, you can prepare this document in no time. This is important since a sales quote can be requested at any time by a client.
Preview & Details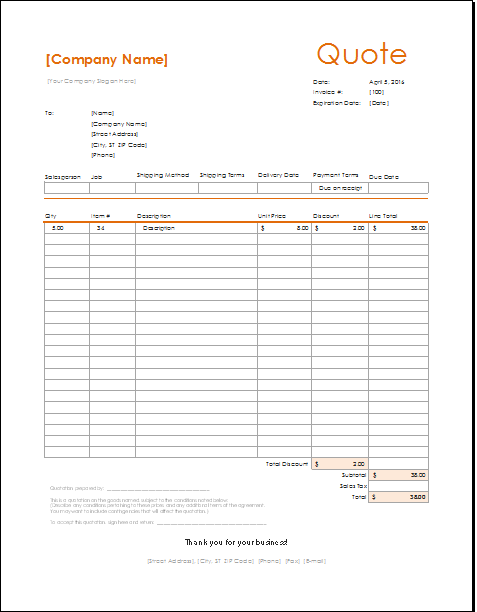 Sales Quote Template
File Size: 36 KB mobile [Android+iOS] & iPad
Download Excel (.xls) 2007 & 2007+