SCHOOL EVENTS & BROCHURES
Design your own school concert event brochure. There are several options available. You can either create it from scratch or use a professional design template. The latter can lead to a number of advantages. It can save your time since the formatting and layout designing has already been done. Moreover, you can get a plethora of creative ideas which can be customized to suit your requirements. This process can be carried out by the concerned school staff members. On the other hand, the senior students can also be trusted with this job. In fact, it can be turned into a fun art activity for students of all ages. This will be a great way of getting a large number of innovative ideas. The best idea can then be used.
Alternatively, different ideas can be merged together to produce an attractive and creative school concert event brochure. The color scheme, formatting styles, and overall layout should be well planned. Images can also be added for visual attractiveness. Other than the design, different aspects of the brochure must also be taken into account. It should contain all the important information about the school event.
The exact timings must be mentioned along with the venue. It should also be mentioned whether outsiders are allowed or not. For security reasons, most school events are only for the students and their parents. Therefore, it must be mentioned clearly who the invited people are. You should keep such brochures small to make their creation less costly.
PREVIEW & DETAILS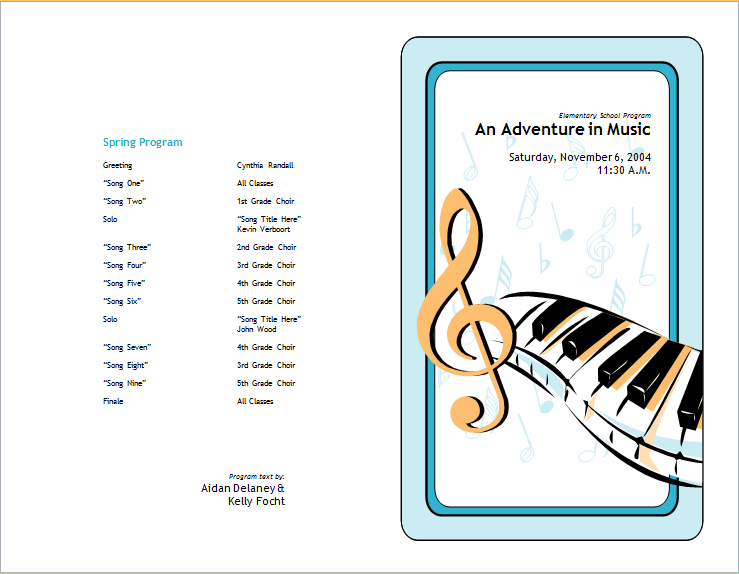 SCHOOL CONCERT EVENT BROCHURE
File Size: 89 KB mobile [Android+iOS] & iPad
Download Word (.doc) 2007 & 2007+
For more professional design brochures Click Here