A service quote provides a cost estimate for particular services. It is issued by a service provider upon request by a potential client. Service charges keep varying due to different factors. For instance, changing prices of products or overhead costs may affect the total charges for a particular service. This makes it necessary to issue a service quote each time client enquiries about the prices. There may be a large number of client requests in a single day. In such a case, the service provider has to create many quotes. It is also important to respond to these requests promptly. A delay might cause the clients to become uninterested in buying services from you. Therefore, a service quote template should be used. It can speed things up by making your jobs simpler. You will be able to respond to all your client requests right away.
The template offers you a readymade layout. It can also help you in making the necessary calculations. In this way, your quote would be free of calculation errors.
In fact, it will be a perfect service quote created with a professional format. It includes the company's title and contact details, service details, and cost estimates. The name of the client should also be mentioned. In addition, it is also important to mention a date up to which the service quote remains valid. This date or would prepare your clients to expect updated prices once the given time period expires. You can prepare all your service quotes in no time by using the template.
Preview & Details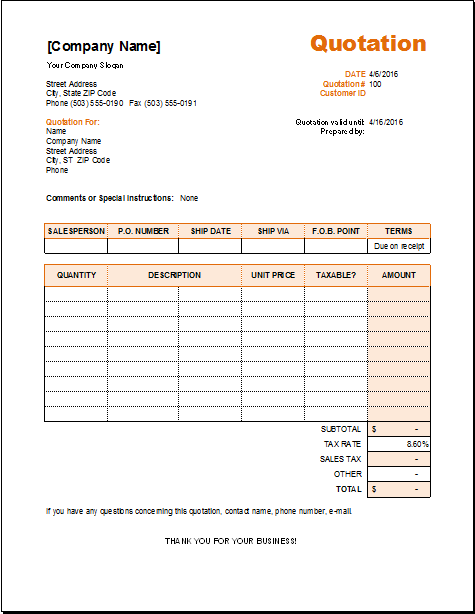 Service Quote Template
File Size: 40 KB mobile [Android+iOS] & iPad
Download Excel (.xls) 2007 & 2007+