Tutor Services Flyer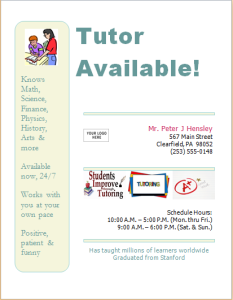 Learning is the most important part of a person's life so one should never compromise on it, finding a tutor can be tough and if you are providing teaching services then use flyers. As a flyer is the best way to let students know about your services, so they can contact you when they need any sort of help in their studies. The flyer for a tutoring service should have pictures of books and pen on it so that it can look interesting. Making a flyer is not a tough task you can make it yourself also. The flyers for offering tutor service have the following things:
Title
Details about experience
Subjects tutoring
Email address
Contact number
Salon Services Flyer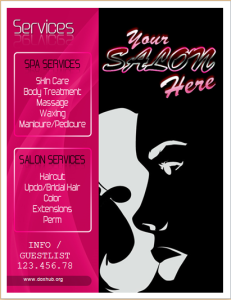 When it comes to the flyer of a salon, the thing that is needs focus is the look of the flyer. The flyer should be well managed; one should know how to make it attractive. The thing that is considered the most is the impression, so for making it fabulous you can add images of the girls with amazing makeup to let the clients see the uniqueness of your work. Pictures of models with a nice makeup convey an eye reading message to the brain about the quality of the work of a salon. A flyer of a salon should be creative and unique; it should not have a picture of something that can make the customers uninterested about it. The salon services flyer should have the following things:
Name of the saloon
Services in details
Rates of the services
Where it is located
Discounts (if any)
Timings
Contact number
Pet Sitting Services Flyer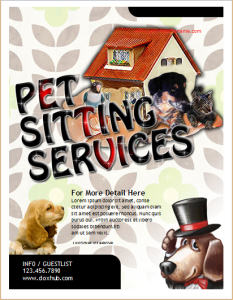 If you are a pet owner and you have to go out to work for a specific period of time, it can be some days, weeks, holidays, months and even years also then the best way to find someone reliable who can take care of your beloved furry is through a flyer. Even If you have started your own pet sitting service, a flyer is a simple and effective way to find people who are interested and also to get introduced.  There are basic tips that can help the individuals to make a flyer, like a picture of you walking along with the dog and playing with the cat. When it comes to being a successful person then advertising your services should be your main priority, not only averting but advertising it in the best way possible. Unlike the other people struggling, advertise without breaking the bank should be your top concern.
Include a great image
Include your services information
Your address
Location
Contact information
Babysitter Services Flyer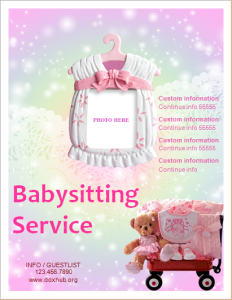 No doubt, a babysitter service is not an easy job, in fact, one's who have a quality of responsibility and patience can do it in a better way. To make a perfect babysitter a person has also a good excellence of public dealings.
Babysitter services flyer should make in such a way which grasp at once someone's attention and the message should be clear and meaningful.  In that sense, you can use your real name, and can also print the pet or tag name or a touch of some attractive and choose words.
You can reference your age, your solid concerning expertise and talents besides with the locality in which the work is required. Also, mention your charges per hour, your time availability and your all contact info in a babysitter services flyer.