Free gift vouchers can be offered by shopping store owners for any product. One of the most popular of such vouchers is a shoe shopping gift certificate. Both women and men love to purchase shoes. Therefore, more customers are attracted due to this tempting offer. You can find many ready-made gift vouchers on the internet. These can easily be printed for free. However, it is better to use templates. This is because you can make the necessary modification according to your own requirements. It is important for the content of the gift certificate to be exactly according to your offer. This cannot be achieved through printable certificates. Therefore, use a template and get the best results.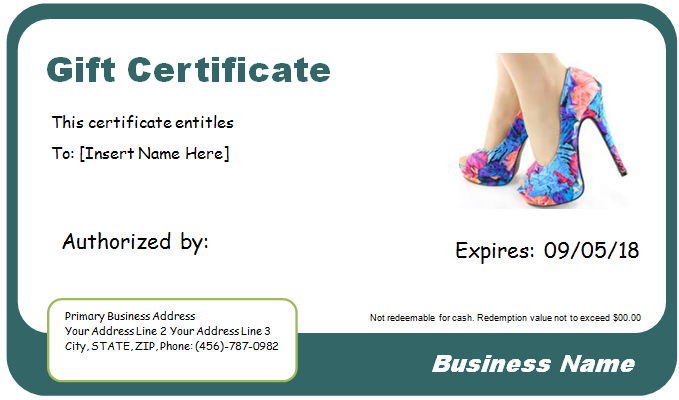 Choose your preferred colors, patterns and font. You can also select an interesting shape for the voucher. In addition, the overall size can also be modified. The designing process will not only be simple but also quick. Therefore, there will be no need to hire a professional designer for this job. In addition, you do not require special software programs like graphic editors. All you need is a computer in order to use the template for the designing of a shoe shopping gift certificate.
You can use the same template in order to create various gift cards with different designs. In this way, you can introduce different offers all year round. You will be saving your time, effort as well as money by using the template. Design your own shoe shopping gift certificate through a template.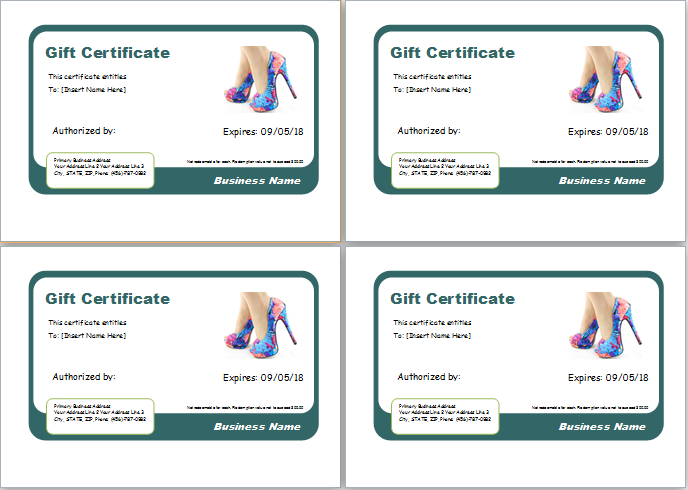 Gift Certificate Templates
File Size: 464 KB mobile [Android+iOS] & iPad
Download Word (.doc) 2007 & 2007+
File Size: 96 KB  | Download OpenOffice Writer (.odt)