Re: Thank You for the Experience Certificate
Dear [Mr. or Ms. Name], I hope this email finds you well. I am thankful to you for providing me with the experience letter within the stipulated time I requested. It was one of the most memorable times I spent in your company as a [your former position in the company]. During my working period in the office, I learned a lot of new things especially I gained much experience related to automation and the use of different software for marketing assistance.
I am grateful to you for providing me with an experience letter as it is an essential document for my application to the foreign company. I am looking forward to traveling abroad and settling there. This experience letter will help me out in securing a job by showing it as proof of my working experience in the field of marketing management and automation.
I spent [specify the time you worked in this company] in this company and happened to meet very talented people. The strong teamwork and collaboration with external teams for different projects have provided me with great faculties of skills and learning. I again thank you for this letter. If you need any assistance related to my field, I will be very glad to do that.
Best Regards,
[Name]
[Position]
[Contact Details]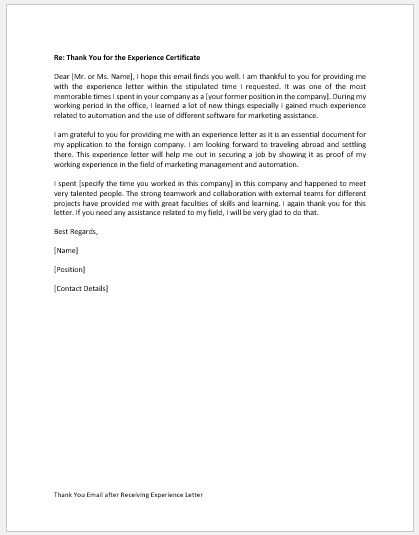 #2
Re: Thank You Email
Dear HR Manager,
I am very thankful to you for providing me with this letter of experience. I worked for your company for more than [X] years. During this time, I learned a lot and gained much experience. This experience will help me work in the field of Business Analysis and Expansion.
The teamwork and project management I experienced here at your company have added a lot to my knowledge and experience and have given me direction and perspective. I would never have considered leaving your organization if I could manage my commute to work from such a distance.
I have read the experience letter and am delighted to see the kind words and appreciation you have expressed in it. Your admiration and kind words imprinted on this paper will help me in the future.
Thank you again for sparing some time and writing this experience letter. My contact information will remain the same. Please feel free to contact me anytime if I can be of any assistance.
Kind Regards,
[Name]