Restaurant Menu Templates
In restaurants a menu is called as a presentation of list of food and beverages from which a customer's selects and orders his food. For a person who owns a restaurant, cafe or an ice cream parlor it is mandatory to have a menu card which would have the list of items the customers can select from.
The menu must reflect the elegant interiors and decor of the carvery. It should give people a clear idea about the various items the restaurant is offering to them. An amazingly beautiful menu card can entice the customers and attract them towards your hotel and make the interested to enjoy your delicacies quite often. Menu card can be regarded as the backbone of the restaurant because it develops a customer's perception about your restaurant and food items.
Usually customers love to pick from a lot of choices and they also appreciate the existence of restaurant's special dishes which no other restaurant can cook better. For pizza restaurants flyers like menus are used to advertise the business and to make people their customers. These menus contain the information about deals and stuff plus the number of the branch so that people could call and order pizzas or something else from the restaurant. The home delivery service is very convenient for those who don't want to travel all the way from their house to the restaurant. They can order a pizza by just giving a call to the restaurant and providing them with the home address.
A sample of tri fold restaurant menu is given here. Use MS Word to download and customize as per your requirement.
Preview and Details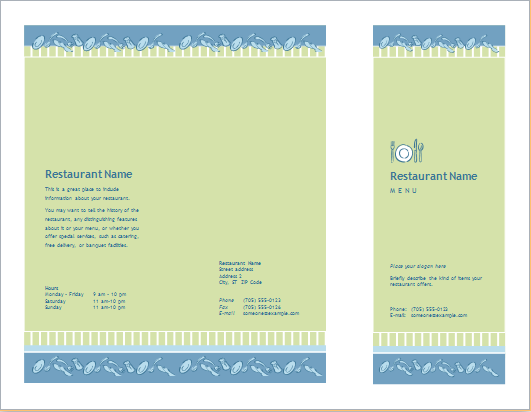 Tri fold Restaurant Menu Template
File Size: 176 KB mobile [Android+iOS] & iPad
Download Word (.doc) 2007 & 2007+
File Size: 68 KB
Download OpenOffice Writer (.odt)